By Martha Thompson, Director of Guest Relations
Forget about raiding the kids' plastic pumpkins this Halloween! Gather the family together to make a couple of my favorite childhood Halloween treats. These recipes for old-fashioned caramel apples and homemade caramel corn have been around since the 1950s, and they are as much fun to make as they are to eat.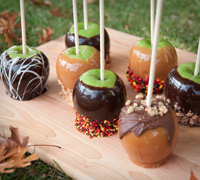 Caramel Dipped Apples
Caramel apples have become a traditional autumn favorite at my house and are particularly popular at our Halloween parties. As temperatures dip and markets fill with Halloween candy, combine crisp apples with sweet and chewy caramel. Adding creative toppings really puts a fun and tasty spin on this juicy Halloween dessert.
Ingredients
6 medium-size apples, about 5 ounces each (For a sweet and tart taste, try using Jonathan, Braeburn or Jonagold apples. And for an extra-tart bite, nothing beats Granny Smith!)
1 14-ounce bag of Kraft soft caramels
2 tablespoons of heavy whipping cream
6 wooden dowels or sticks
Directions
Prepare your apples by washing and drying them. Room-temperature apples work best. Remove stems and insert dowel into the stem end of each apple.
Cover a cookie sheet with wax or parchment paper, grease with butter or oil, and set aside.
Prepare your toppings (below) and have them ready to dip while caramel on apples is still soft.
Unwrap caramels and place with cream in a microwave-safe glass bowl. Microwave on high 2 1/2–3 minutes (stopping to stir every minute) until caramels are completely melted and smooth.
Working quickly, hold each apple by the stick and dip into caramel mixture, turning to coat. Lift and scrape the bottoms gently against the edge of the bowl to remove excess caramel.
Dip and gently press a topping of your choice on each apple to adhere. Stand apples on prepared baking sheet and chill until caramel sets. Store apples in the fridge, then set them out about 15 minutes before serving to bring them to room temperature.
Toppings
Use your imagination! The toppings I used on the apples in the photo were:
Chopped salty peanuts
Chopped pecans
Chopped Heath candy bars
Halloween sprinkles
Small candy-coated candies
Milk chocolate or white chocolate chips melted and drizzled over chilled caramel
NOTE: For chocolate caramel apples pictured, substitute 50 unwrapped Riesen chewy chocolate-covered caramels for the plain caramels. Use 4 tablespoons of heavy whipping cream instead of 2.
Homemade Caramel Corn
It wouldn't be Halloween without caramel corn in our family. Caramel corn is the perfect combination of sweet and salty. You can keep this delicious treat in an airtight container for up to... hmm, I have no idea! It's never lasted more than a couple of days in our house!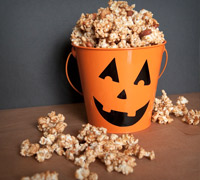 Ingredients
6 quarts salted popped popcorn (no butter)
2 cups mixed nuts (optional)
2 cups brown sugar
1/2 cup light corn syrup
1 teaspoon salt
1 cup butter
1/2 teaspoon baking soda
1 teaspoon vanilla extract
Directions
Preheat the oven to 250 degrees. Line 2 large baking sheets with parchment paper.
Make popcorn and place in large containers. You can use 2 large bowls, a large roasting pan, or a large soup pot. I actually use a double-bagged brown bag from the grocery store (unused, of course!). It works great and cleanup is easy!
Combine the brown sugar, corn syrup, butter and salt in a saucepan. Bring to a boil over medium heat, stirring enough to blend. Once the mixture begins to boil, boil for 5 minutes while stirring constantly.
Remove from the heat and stir in the baking soda and vanilla. The mixture will be light and foamy. Immediately pour over the popcorn in the bowls or bag. Stir to coat.
Transfer the coated popcorn to the baking sheets. Bake for 1 hour, removing the pans and giving them each a good stir every 15 minutes. After it has baked, separate caramel corn into pieces if needed. Allow to cool completely, then store in airtight containers or sealable plastic bags.
Get more recipes and goodies by following Martha on Twitter @Marthas_Place.