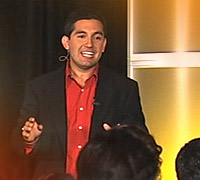 If ever there was someone tailor-made to carry Dave Ramsey's message of financial peace to the Hispanic community, it's Andres Gutierrez. With his new radio show, he's now able to spread hope on a whole new level!
Like Dave, Andres has a knack for capturing an audience's attention. But, more than that, Andres shares Dave's passion for providing financial hope to people who are struggling with money and want to save for the future.
Why They Need the Message of Hope
The Hispanic population, with more than 50 million people, now represents the largest minority in the United States. Their spending power exceeded $1 trillion in 2010. That's a lot of money!
"With that type of purchasing power, you would think they would be winning with money," Andres says. But the reality is shocking. "The average net worth of Hispanics is only 9% of the average net worth of non-Hispanics—in other words, they are broke.
"They are spending $50 a month on a TV, $80 a month on a bunch of furniture and $400 a month on the car. Before they know it, they are spending more than they make. So there's no savings. There's no money for retirement, no money for college savings. There's not even an emergency fund."
In reality, Andres says, the Hispanic population in America is not much different than anyone else when it comes to money. "They know what to do with their money; they just don't do it. They have bought into the marketing that says if you want something, you should put it on a credit card instead of saving in order to buy it."
Why Andres?
Before joining Dave's team, Andres worked as one of Dave's most successful Endorsed Local Providers (ELPs) in San Antonio, Texas. With the heart of a teacher, Andres has been helping people with their money for more than 10 years.
"As one of Dave's ELPs, I was able to help people make a plan for their money and get out of debt," Andres says. "Not only have I held all the insurance and investment licenses, but I also have the real-life experience of knowing what it takes to become and live debt free."
Having grown up in a household where debt was not an option, Andres learned at an early age that if you don't have the cash, you don't buy it. But when he went to college, things changed.
"I quickly fell into the lies that having debt was normal. I opened up credit cards and took out student loans. My wife and I continued this pattern of using credit cards, and our debt piled up quickly," he says.
"But, in 2003, we went to Dave Ramsey's Total Money Makeover LIVE! event, and we decided that we didn't want to live a life of payments anymore. We got on a plan, followed the Baby Steps, and now have paid off all of our debt, except for the house. And we're knocking that out now!"
These changes not only helped him financially, but they also improved communication in his marriage. "To this day, we sit down every month and have a budget committee meeting. If something changes or one of us needs to make an unexpected purchase over a certain amount, we come back to the table and discuss how it will affect our budget."
Andres wants to bring that same type of transformation to the Hispanic community. At his live events and in his DVD series Paz Financiera, he teaches common-sense financial principles that empower Hispanics to win with money, once and for all.
"By breaking down the principles and teaching people, step by step, how to apply these principles in everyday life, we are able to help them change their financial future and their family tree."
Now On Air!
Andres hosts a talk radio show, El Show de Andres Gutierrez, where he tells it like it is and teaches people to win with money. His passion and direct way of communicating has earned him the nickname "El Machete." Listen to Andres for yourself and find out why! The show is being broadcast on stations across the country at various times. You can listen live online Monday through Friday from 11am to 12pm EST at andresgutierrez.com.