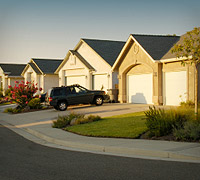 There's just no excuse for paying too much for home or auto insurance. With a little effort, you can cut your insurance expenses by hundreds of dollars a year.
Shop 'Til It Drops
Mama was right. You better shop around if you want good insurance deals. Most people are content to let their home and auto policies renew automatically—and that's a mistake. The only way to know if you've got a deal is to see if you can find a better one, so review your policies annually. As you gather quotes, make sure you're comparing equal policies—same deductible, same coverage amounts, etc. That way you're not fooled into buying an inferior policy with a low premium.
Raise Your Deductible
This is the easiest, most effective way to lower your home and auto insurance premiums. Raising your deductible from $250 to $1,000 will save about 40% on your auto coverage and about 25% on your homeowner's policy. Of course, you'll need to self-insure by setting aside the amount of the deductible in savings to cover smaller repairs.
A higher deductible will also keep you from filing too many claims, which can drive your insurance premiums up.
Safety First
Make sure you get credit for safety and security devices installed in your home or car. You could get discounts for things like anti-lock brakes, smoke detectors, security systems and anti-theft devices. If you don't already have these features, check with your insurer to see if it's worth the discount to add them.
Don't Delay—Pay Today
Many insurance companies offer a discount if you pay your annual premium all at once. Make sure you're not being charged for paper statements or payments you make by mail. If you are, sign up for electronic statements and online payments.
These are just a few of the ways you can lower your insurance costs. An insurance professional can help you by researching insurance companies and investigating their discounts to find polices that will fit your budget and your coverage needs.
Dave's team can help you find the smartest, hardworking insurance agent in your city.