Saving
Go Back to College Debt-Free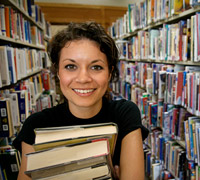 In an ideal world, you would start saving for your child's college education the moment she is born (if not before). By the time she registered for fall classes at her school of choice, there would be more than enough money to support her while she earned her four-year degree—even an advanced degree.
A lot of us, though, don't find ourselves in that ideal situation when our kids start shopping for colleges. If you're an adult with a family, financing college is even more of a challenge. That's okay. There's more than one way to get that diploma. The only thing that is off limits—student loans!
We recently asked Dave's Facebook friends to tell us how they got through college without debt. We received more than 1,300 comments—proof that debt-free college education is possible.
Scholarships
According to Collegeboard.com, undergraduate college students received more than $126 billion in financial aid in 2008–09. The average payout for a full-time student was about $10,000. Average tuition at a four-year public college was just over $7,000 per year for in-state students, so it is possible to get enough scholarships to cover tuition and most of your living expenses—you just have to apply!
Jan Lesak, a single mom, put herself through college with scholarships. "I applied for every available penny," she said. "My motto was, 'All they can do is tell me no—and maybe they will tell me yes!'"
Local experts you can trust.
Find an ELP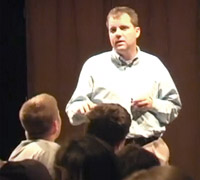 A Legacy Worth Leaving
Chad Cargill worked hard to receive a full-ride scholarship and now helps high school students do the same.
Chad Cargill ended up with nearly a full-ride scholarship based on his excellent ACT score, a 32. He took the test 18 times, but it was worth it. "I now run my own company working with high school students on their ACT test and enjoy telling them how they, too, can make it with no debt," he said.
Work
When scholarships aren't enough, you can always find money the old-fashioned way—work!
Jacquelyn Holt's college roommates thought she was crazy because she worked three jobs and lived on just a few hours of sleep. "It sure kept me out of trouble though!" she said.
Her five years of work experience gave her an edge when she graduated, and she landed a management job right away.
J William Musick worked full-time on the second shift for a company that offered tuition reimbursement. "Burning the candle on both ends was the hardest thing I've ever done, but it was worth it when I finished summa cum laude," he said.
"I went to College of the Ozarks near Branson, Missouri," Sandi Schlagel Attaway said. "Every student works their way through on on-campus jobs and graduates debt free. Their logo is 'Hard Work U.'"
Lisa Hanson started working and saving for college in elementary school. "I started showing a steer every year at my local fair when I was about eight years old until the time I was 18," she said. "Every year, I would put the money I earned into a savings account earmarked for college."
By the time Lisa graduated, she had $10,000 left over. She used it for a down payment on her first home!
Military
The military isn't for everyone, but it has helped a lot of Dave's Facebook friends get through college debt free.
Anthony Singleton began working toward a U.S. military academy appointment when he was a freshman in high school. He attended the U.S. Naval Academy, receiving a $250,000 education for free.
"I paid the government back by serving as a Surface Warfare Officer for 10 wonderful years," he said.
The Air Force paid for Kate Van Gundy's husband to attend college while the Gundys scrimped to pay for books. He worked part-time and was even deployed to Iraq, but he graduated in five years with a 4.0 grade point average. He now has his dream job—USAF pilot.
More Ways To Save
Make those hard-earned dollars go further by being smart about the school you choose:
The College Level Examination Program can give you credit for some college courses for much less than it would cost to take the course. Check with your school about their CLEP policy.
Private colleges are almost four times more expensive than public schools.
Attending an out-of-state public school will increase your tuition by an average of $4,500 a year.
Tuition at two-year public colleges is only about $2,500 per year, a great option if you're really strapped for cash.
Live at home to save on room and board costs.
Students who live off-campus (not with their parents) spend more on rent and food than those who live in the dorms and use the school meal plan.
Just because you don't have a huge college fund doesn't mean you can't get a college education. You'll have to work harder and make some sacrifices, but as many of Dave's Facebook fans said, it's all worth it to receive your degree debt-free!
Learn about Dave's life-changing college curriculum that teaches students how to manage their money responsibly.