Home Selling
Get More Cash for Your Home With These 5 Upgrades
You've cleaned and decluttered your home, sent the pets to Grandma's for a long stay, and applied a fresh coat of neutral paint.
But you still have room in your home-improvement budget. How do you wow buyers without wasting your money?
We talked to two of Dave's real estate Endorsed Local Providers to get their expert take on home upgrades that get you a great return on investment.
Curb Appeal
Do Sweat the Small Stuff
Home-improvement shows give a lot of attention to kitchens and bathrooms. But if all buyers see when they pass by is a shoddy exterior with overgrown grass, they'll write you off before they ever make it through the door.
Here are just a few DIY projects where a small investment can have a big impact:
Mowing the lawn and trimming the landscaping
Painting your front door
Replacing tarnished door hardware and light fixtures
Adding fresh mulch and flowers to landscape beds
Don't Ignore Grime
Before you dress up the details, be sure to remove the layers of dirt and grime covering your home's exterior, driveway, and sidewalks. A good pressure washer can help you tackle the job.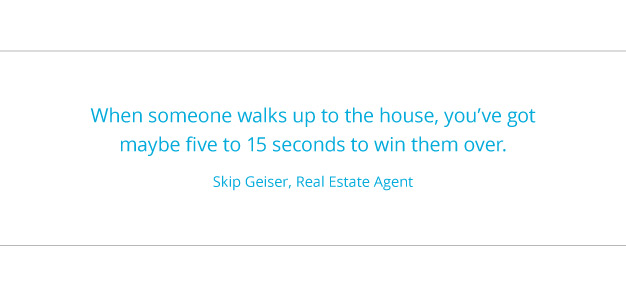 Ericka Lalka, a real estate agent in Richland, Washington, has owned a few pressure washers over the years. "As often as we've used it, we would have been better off renting it because we've had to replace them," she says. You should be able to rent one at your local home-improvement store for less than $100 a day.

Find expert agents to help you sell your home.
Flooring
Do Replace Dingy Carpet
If you have old, grungy carpet, Skip Geiser, a real estate agent in Pensacola, Florida, recommends replacing it because it makes your home look—and smell—like new. That's especially important if you're competing with new construction homes in your area.
Avoid getting too personal with color selections. Neutral is always best. Remember, you're creating a blank slate so buyers can picture their life in your home.
Don't Dismiss Affordable Options
Of course, carpet won't work in every area of your home. If your kitchen linoleum is straight out of the '70s and you can't afford to install tile or hardwoods, you can bring it into the 21st century without breaking the bank.
Skip and Ericka both say inexpensive materials like vinyl and laminate have made strides in recent years. Ask your agent to point you toward affordable flooring options that hold value well in your area. Just make sure you don't bust your budget!
Cabinets
Do Consider Painting Outdated Cabinets
When Ericka bought her home, the kitchen cabinets were dark and unattractive. Instead of spending $10,000–20,000 on brand-new cabinets, she and her husband decided to paint their existing ones. That way they could stay focused on paying off their home. Skip agrees that painting cabinets and adding new hardware is a great way to transform an ugly kitchen. "That's probably the number-one thing that will get you the biggest ROI," he says.
Don't Take On a DIY Project If You're a Beginner
Painting cabinets might be a money-saver, but it's not easy. You can't just slather on a layer of paint and call it a day. You've got to know how to prep and finish cabinets to keep them looking good for years to come. So how do you know you're up to the challenge? Prior experience is a great sign that you can handle a big project.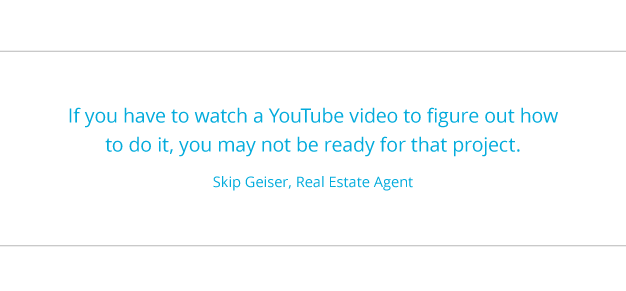 Otherwise, it's best to call in a professional. "In my area, I can have my kitchen painted for about $1,500, and I have a pretty good-sized kitchen," Ericka says. That's small change compared to the big dent a bad paint job could put into your sales price!
Countertops
Do Check Out Your Competition
Countertops are a big investment. You don't want to dump a lot of cash into the wrong thing, so see what comparable homes near you have in their kitchens. That will give you a good idea of what buyers in your price range expect.
You're more likely to see laminate countertops in a $125,000 home and high-end materials in a $500,000 home. If no one else in your neighborhood has granite, your home will certainly sell faster with it. Just don't expect to get every penny out of your investment if that's the case.
Don't Assume Granite's Your Best Bet
There's no denying granite counters make a statement in any kitchen. But other, more affordable options have been gaining ground in recent years.
Ericka says quartz is most popular in her area, and a recent Zillow study of home features confirms that trend. Listing descriptions that bragged about quartz saw a bigger ROI than those with granite.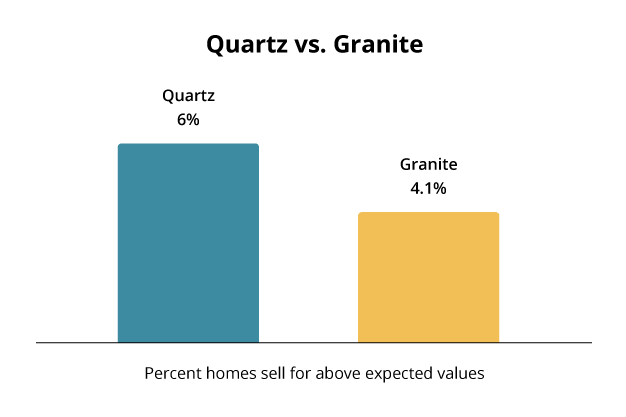 Solid stone is another big contender that tops buyer lists in Skip's market. That's because its non-porous surface resists germs and requires less maintenance than natural stone.
Kitchen Appliances
Do Rethink Your Microwave
When you think of appliance upgrades, the big-hitters probably come to mind. But there's one appliance you could be overlooking. "If you have a smaller kitchen with a big microwave sitting on the counter, that's an issue," Skip says.
No microwave over your stove? "If there's room, I always encourage swapping out the dated hood for a microwave," Ericka says.
Don't Splurge Unnecessarily
Upgrading to stainless might look great, but it doesn't always help you make more money selling your home. So how do you know when to invest in all-new appliances?
"If you have brand-new white appliances that look fantastic, I don't believe they're going to get money out of it in my market," Ericka says.
But if your appliances look like they're on their last leg, that's a bigger deal. Skip suggests checking out your local scratch-and-dent store or major holiday sales at big-box stores for deals.
Don't Invest in Upgrades Until You Do This
There's no point pouring cash into a kitchen renovation if a leaky roof scares buyers away. So make sure the basics work properly first. "In this day and age, you can assume if something's not working or needs to be replaced, there's a very good chance you'll be asked to do it in the home inspection," Ericka says. That's because loans depend on these things.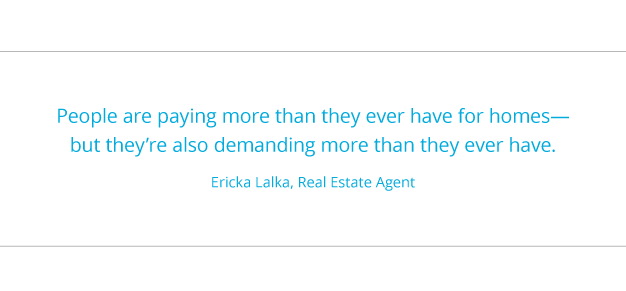 A pre-sale home inspection can help you identify repair issues—and calculate repair costs upfront—before you blow your budget on beauty. Your buyer's home inspector may still find things that need to be fixed, but being proactive can help keep big-ticket surprises at bay.
Lean on a Pro for Advice
You don't have to do everything on this list to get top dollar for your home. And remember to keep your budget in mind as you consider different upgrades! In fact, Skip and Ericka both say simple changes can make the biggest difference.
That's why it's important to consult an agent as early as possible once you decide to sell your home. It doesn't matter if your home looks perfect yet. A good agent can help your home shine without spending more than you have to.
Looking for an agent you can trust? Our real estate ELPs are the best in the business.
Find an ELP in your local market today!