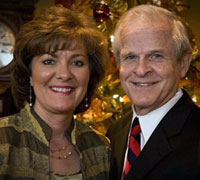 Meet George Dossett—a retired Army officer who has served in ministry since he got saved in 1992. "I have always loved to teach and minister to hurting people, but I feel that God has spent all these years preparing my wife and me for a major work in the Kingdom for a time such as this," he said. "I cannot say I was totally fulfilled until I completed Financial Peace University (FPU) and Counselor Training."
George and his wife, Michelle, were introduced to Financial Peace University by their friend and children's pastor, Ray. Ray and his wife implemented FPU in their church, and George grudgingly agreed to take it. His enthusiasm slowly grew with each new class, and in the first six weeks, he and Michelle were able to build up their $1,000 emergency fund and pay off all $24,000 in credit card debt! Talk about gazelle intense! "When we get excited about something, we tell other people about it," George said. Their enthusiasm snowballed to the point that they soon signed up to attend Dave's Counselor Training so they could help families one on one.
Now, it's their goal to inspire people everywhere to take FPU.
What makes all the hard work you've put into serving others via FPU worth it?
FPU has had a profound effect on not only the life of my family, but on many of those around me. We have helped everyone from people on the verge of bankruptcy and people nearing retirement with little or no savings to couples that had no communication whatsoever prior to FPU! To see the glow on the faces of healing couples or watch a single mom stand before the class to scream, "I'm debt-free!"—that makes it all worth it.
How does FPU create a foundation for growth?
As an elder at our church, I have been teaching foundational courses for several years, and I love to inspire others to be all that Christ has called them to be. FPU and Counselor Training helped me recognize that if the foundation is weak, the house cannot stand. Therefore, families that struggle financially are rarely able to reach God's best. Communication is disrupted, arguments occur, and children who witness this are doomed to repeat the cycle. Accordingly, in almost all of our foundational classes at church, we offer information about FPU in the hope that they can break the chains of debt.
Why does your pastor support your FPU efforts so strongly?
Our senior pastor, Jeff Wickwire, has been one of our biggest cheerleaders. He sees FPU not as a financial class, but a major spiritual awakening necessary in the life of a believer. As revival can only begin in a person's heart, the financial health of the church must begin in each individual home. Consequently, when our pastor applauds FPU from the pulpit, it is with the view of the spiritual health of our church. The Great Recovery has served to underscore and further emphasize our vision of attaining a debt-free church.
Why do you feel called to lead FPU classes?
Each of our FPU classes has had about 30 to 35 people who have gotten serious about eliminating their debt. We know we're doing the right thing when we see the tears of joy and the faces of a husband and wife when they stand before the class and announce that they've just paid off their house and are now debt free —or the 24-year old mother of two, whose husband recently deserted her, being able to stand up and say she's now debt free, or even the older couple that now has hope for the future, that they can retire within a few years. This is why we are so excited about FPU.
Learn how you can get a Financial Peace University class started in your church today!