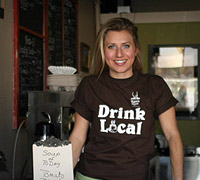 Young Entrepreneur Seizes Her Opportunities
As owner of Raven's Nest Coffee, Ashleigh Cohen is growing her business with principles learned from Dave Ramsey.
A year ago, Ashleigh Cohen was fighting burnout at a job she didn't really like. She had a deep desire be her own boss, but she hadn't figured out how, or even what her business would be. So she stayed behind her desk, working 9 to 5 and wondering if her dream would ever happen.
Then, after a trip to Haiti to help survivors of the 2010 earthquake, she examined her life and started asking tough questions. If I were to die tomorrow, would I be satisfied with my choices in life? Did I jump at the chance for adventure? Did I seize every moment?
She didn't like her answers to those questions, so she began researching a career change. She still wanted to start her own business, but had not yet decided what that business would be—until she met her dad for coffee at their favorite coffee shop.
"My dad mentioned to me that the owner was trying to sell the shop," Ashleigh said. "Light bulb!"
An Entrepreneur Is Born
She researched, crunched numbers, and prayed before she made her offer to buy the shop. The owner accepted, and she became the owner of Raven's Nest Coffee.
The next couple of months were a blur of on-the-job training. She loved learning about coffee beans and roasting techniques and meeting new people all day. She also loved being a business owner, but she knew she'd need help if she was going to be a successful one.
That's when her mom told her about an EntreLeadership contest Dave hosted last year. Small business owners were invited to post their stories online. Readers voted for their favorite, and the winner received a free ticket to Dave's five-day EntreLeadership Master Series.
So Ashleigh entered the contest and launched a campaign to garner votes. She started the Raven's Nest Facebook fan page and was featured on a local Colorado Springs news broadcast detailing her journey and race to win the contest. Thanks to these efforts, Raven's Nest Coffee was a strong contender, but another business owner won the contest.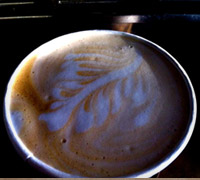 It's Just The Beginning
But something amazing started to happen at Raven's Nest Coffee. Even though the contest was over, the shop was still getting attention.
"Since the contest, my business exploded," Ashleigh told us a few months later. "I've had multiple TV, newspaper and radio interviews. The contest really helped me get my name out there. It's been a real confidence booster."
Dave also invited Ashleigh to attend his EntreLeadership 1-Day event. It was an intense day of learning for Ashleigh, who implemented some changes immediately.
"I took Dave's advice to not try to grow my business too quickly," Ashleigh explained. She'd been planning to open a second location, was thinking about roasting her own coffee beans, and possibly starting a mobile coffee cart.
"After EntreLeadership, I put those ideas on the back burner and just focused on the one business I have," she said. "I have made vast improvements in this shop, and now I'm not too far off from actually needing to expand."
A local radio station has also been airing a 60-second spot for Raven's Nest during The Dave Ramsey Show.
"The whole town associates Dave Ramsey with me, and I love it," she said. "I've even had people come in and yell, 'I'm debt free!' to me because they knew I would understand the Dave Ramsey mindset."
"It's really incredible to think that eight months ago I was scared and clueless," Ashleigh said. "Being a part of that contest gave me confidence, put me to work marketing my business, and gave me the opportunity to learn from the best!"
Want to invest in your business and grow it with powerful principles from Dave Ramsey? Learn more about EntreLeadership, his ultimate business conference, now!