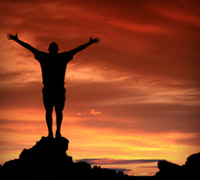 FREEEEDOM! You can hear it shouted on Dave's radio show every Debt-Free Friday. Do you dream of the day you can call in and shout, "I'm DEBT FREEEE!"? Or, do you remember the day that you did?
Well, it's happened for FPU coordinator Jen Gordon, who is currently planning her fifth FPU class at New Summit Church in Missouri. Her family is debt-free—including the house—and lovin' it! Here's what she had to say:
Because of the principles I have been helping others use over the past several years to get out of debt, my husband Dan and I have just paid off our house and are completely debt-free!
I don't think we would have even thought about doing this had it not been for putting aside all the things society teaches us and thinking a little bit "weird!"
We always thought we would move into our "dream home" (affectionately referring to our current home as the "five-year house"). Eleven years later, we have come to realize that we already live in our dream home ... and it's completely ours! Well, we manage it for God, anyway—without the bank's help!
We were never really sinking in credit card debt, but Dave's teaching helped us realize we could do better, and now the possibilities are endless.
Are you already debt-free? How much longer do you have? Tell us about it here!