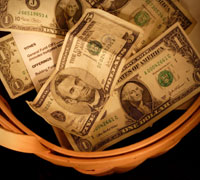 When most people hear the word "stewardship," they reach for their purse or wallet, assuming they're about to be asked to give. "Stewardship drive" has become synonymous with "capital campaign" in too many churches across America.
But when people find out the true definition of a steward, it's disarming and freeing. Not only that, but they learn to become givers in a whole different way.
We want to help you teach your people that being a steward means being an "asset manager" for God. God owns it all: "The earth is the Lord's, and the fullness thereof." That means that we are to become excellent managers of all of the resources He entrusts to us: time, energy and of course, money.
It's not my money. It's God's money. He is the owner, the CEO. I am just an asset manager.
This simple paradigm shift turns most people's views of giving, saving and spending on their heads. Good managers make the kind of decisions that make the owner happy. And our Owner happens to be an outrageously generous giver.
This sermon outline is designed to help you present the powerful truth of God's ownership based on Psalm 24:1 and Deuteronomy 8:10–18.
You can teach Dave's take on stewardship using the speaking notes for God Owns It All. Feel free to use them as is or adapt them to your style:
Take me to the free outline of God Owns It All.
If you want to see your church filled with people who give out of joy instead of obligation and who grasp what it truly means to be an excellent steward, take a little time out to show them that God owns it all!