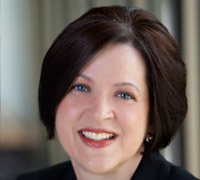 Free Others to Fulfill God's Purposes
Sharon Epps believes gaining senior leadership support, developing individualized solutions, and creating multiple engagement pathways for people are essential for your stewardship ministry.
Sharon Epps, founder of Freestyle Living and former executive officer at Crown Financial Ministries, has great insight to share on three important issues facing the stewardship world today: gaining senior leadership support, developing individualized solutions, and creating multiple engagement pathways for people. Let's explore each one in depth with Sharon.
Support From Senior Leadership
If a pastor is waking up to the need for a stewardship ministry or pastor, Sharon would encourage them that this is a step toward obeying the great commission of making disciples and teaching all that Jesus said. "You are freeing people to fulfill God's purpose in their life," she said. This is also a big deal because God uses how we handle our finances to measure our trustworthiness in greater things.
When a senior leader isn't on board, Sharon has noticed a common underlying cause. "Ten times out of 10, when there's a senior pastor who's not on board, he doesn't feel like he can talk openly and vulnerably about his own struggles in this area." The best thing leadership can do is to provide an outlet for them to get their own finances in order. "As a pastor, you don't feel like you can ask for help. One of the keys is to identify a path toward freedom and a comfort zone.
"It's unusual but healthy if they can admit what they are facing to the leadership team," she said. "But there are plenty of resources out there and ways to keep it confidential."

When pastors are able to model it freely, almost every other barrier goes away.
No Cookie-Cutter Solutions
It would be easier to establish a stewardship ministry if there were a one-size-fits-all solution, but as Sharon would tell you, stewardship is more personal to a church than that.
After working with hundreds of churches, one thing that she has learned is that there is not a template for stewardship ministry. "You can't cookie cutter stewardship," she said. "If stewardship is a program, it will come and it will go… and it will help some people, but it won't become part of the culture. And what I think we're all looking for is culture change."
So, while at its very core the principles of stewardship look the same, it will express itself differently. "The ultimate solution is understanding what God's role is and how you're going to respond."
It's not just about giving. Giving is an outcome of managing money based on the Christian value system. "It's His stuff. We've got to manage it His way. And He is generous."
The need for training is there. "We've got a whole culture of people who haven't aligned their money with their value system," she said. "Generosity is a result of faithful stewardship."
What Motivates Women?
Once you've established a stewardship ministry, it's time to find ways to get as many people as possible from the congregation to participate.
Sharon is passionate about creating new "engagement" pathways to get people who are not often focused on, like women, involved in stewardship training. Her website, Freestyle Living, is not solely a women's ministry, but it does speak to women in a new way.
Years ago, Sharon noticed a gap in the stewardship world. According to an Alliance Insurance survey, 90% of women feel completely insecure about personal finance. According to a CNN Money survey, women control 80% of household financial decisions.
That's scary. Women are doing most of the finances, but they don't feel good about it. "Women need to be equipped—and from God's perspective, not the world's," Sharon said.
She believes we can engage more women in the conversation by taking into account that women tend to tie money more to relationships. Some women may be motivated by the idea of living on a budget or getting out of debt, but most are more motivated by relational issues.
For example, one woman Sharon talked to admitted that she tries to stay on a budget, except when it comes to her kids: "If someone says, 'in order to be a good parent,' I need to get my kid an Xbox or put them on the soccer team, it's all out the window." She thinks, I'll spend anything outside my budget to be a good parent. The majority of women face these types of pressures.
Sharon is trying to tap into motivations like:
Being a good parent
Being able to help family members in need
Having a better marriage
These are the things that will often wake them up to the world of stewardship and drive them to action.
She recommends using an engagement model for women that is highly relational, community-minded, and that celebrates progress in steps. Women juggle so many things during a day, many of which don't bring any kind of closure or measurable progress. They are also more engaged when there is a variety of paths available so they can select the one that reflects what they want to work on.
Sharon believes there are plenty of resources out there for teaching stewardship. Her burden is to create a map that leads more people to those resources so that they can experience what stewardship is about in a whole new way.
Senior leadership support, an individualized solution, and multiple engagement pathways for people in the congregation can help your stewardship ministry go from a dream to a thriving part of the life of the church!
Dave Ramsey has created a program called Momentum to help bring people back to God's view of money management and cultivate a culture of lasting generosity. Discover today how Momentum can help your congregation.