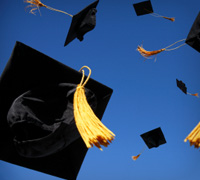 Here are a few fun ways to wrap up your FPU class on week 13! Use them as a springboard, and then let your creativity flow!
Bring a credit card cake: Make or buy a sheet cake decorated to look like a credit card, and cut it up as a class!
Give like no one else: Show the video "If Money Were No Object" and have each person talk about what they would want to do for others if they were completely debt-free.
Make credit card art: Think of something creative to make with cut up credit card pieces. Have each person make something with theirs, like an ornament, or use them all on a group project. You may want to consider a concrete stepping stone that everyone can sign and put the pieces on. It can symbolize the step you're all making toward living debt-free! Consider finding a special place to put it on the church grounds.
Invite your pastor: This is a great time to give any church leaders who aren't familiar with FPU a chance to see what it's all about!
How do you celebrate graduation week? Leave a comment below!