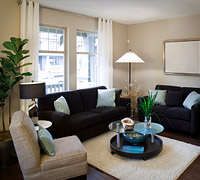 Any good real estate agent will recommend a homeowner clean and declutter their home before it goes on the market. But, home staging, which takes sprucing up a few steps further, can really set your home apart from the competition—adding value and shortening your home's time on the market. Most home sellers don't need to make expensive improvements to get their homes sold. Small-scale changes, when done right, make the biggest difference in sales price and time on the market.
Does It Make a Difference?
Joanne Curtin, real estate Endorsed Local Provider in the Atlanta area, says houses on the market today have to win on two fronts—the price war and the beauty pageant. "Because 80% of what causes a property to sell is the way it is priced and how it appears to the buyer, price will get you showings, but staging will get you offers," she said.
The goal of home staging is to highlight your home's positive features while downplaying its problem areas. It starts with cleaning and decluttering and often includes painting, rearranging furniture or even replacing furniture and accessories.
Set the Stage
You can hire a professional stager, but you can do a lot of the work yourself with these tips from Joanne and the stager she works with:
Paint – Everyone knows that neutral colors are more attractive to potential homebuyers, but many sellers make the mistake of painting their homes the same shade of vanilla. A variety of colors in an earth-toned palette will give your home memorable warmth and charm, Joanne said. Stick with colors you see in nature such as gray, beige, sage, soft yellow and spa blue.
Furniture arrangement – Instead of arranging your furniture against the walls of the room, add visual square footage by first removing one or two pieces of furniture and pulling the rest away from the walls.
Fresh bedding – Make your bed an inviting focal point with an updated bedding set layered with neutral pillow shams, throws or an extra comforter folded at the foot of the bed. Choose simple patterns or play it safe with a crisp, white duvet and color-coordinated throw pillows.
Rooms with purpose – Stage each room for one purpose. You might use your dining room as a home office or playroom, but buyers will respond better to the space if you stage it with a dining table and chairs and chandelier. Even nooks and crannies are valuable square footage, so play them up. An odd alcove at the top of the stairs becomes a cozy reading corner with the addition of an armchair, ottoman, side table and lamp.
Get An Expert Real Estate Agent
Dave's real estate Endorsed Local Providers (ELPs) can help you decide what improvements to make to give your home an edge with buyers. Or, if you're ready to buy, an ELP will help you spot the bargains. Get in touch with your real estate ELP today!