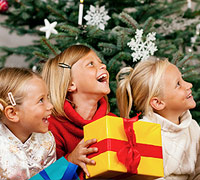 Christmas can easily get way too materialistic for you and the kids if all you do is buy stuff. Here are some ways to teach your children (or nieces and nephews) valuable lessons about the non-material things that really matter.
Show your kids how to give.
You can talk about something over and over, but they won't truly understand until they see and experience it for themselves. It will mean even more when they see you giving to others without expecting anything in return. Set up giving opportunities for your family instead of waiting for others to decide your holiday priorities. This will be a lesson for your kids that lasts a lifetime.
Spend quality time together.
Take a day with one of your children to simply spend quality time with them. You may want to build a snowman together, make and decorate cookies to give as gifts, play family-favorite board games, or watch your favorite Christmas movies together. If you are a parent who works outside the home, doing something like this will be extra meaningful to your kids. They want to spend time with you, and enjoying something together means more than any toy you could give.
Volunteer together.
This one may be unconventional, but it can teach a great lesson. Plan a few hours to volunteer at a soup kitchen, children's home, women's shelter or your favorite local charity. Expose your child to people in different life situations with different perspectives. After you're done, talk with your child about what you both learned and thought about the experience. This may even spark ideas and excitement for how they want to give and serve others throughout the rest of the year!
Encourage creative giving.
This one could be the most fun because it can really rock someone's world right in front of your face. You could buy coats from a used clothing store and give them to people at a homeless shelter. You could go to a hospital waiting room and offer to buy lunch for someone who is waiting for a loved one in surgery. Take your kids along and show them how much fun it is to come out of nowhere and brighten someone's day.
Write to a soldier.
Some people are not able to be with their families during the Christmas season, but that doesn't mean they can't feel a little closer to home. A great way for you and your kids to help is to adopt a soldier. You sit down and write a letter to a soldier overseas telling them how much you appreciate what they do. It's great for the soldier's morale, and it's an awesome way to give to someone who could never repay you.

Your child can win in life and money. Check out our online courses!
Corinne, a Dave Ramsey Show listener, called in to say her little kids had a bad case of the "I wants." She decided to try something different; she wanted to teach her kids about sacrificial giving. So she postponed the family tradition of cutting down their own Christmas tree and instead they used that night to help homeless in their community.
As you can imagine, it totally changed how her kids viewed the rest of the Christmas season. They gave of their own money and time. Even her five-year-old daughter had a great time! Corinne has changed her family tree in a whole new way. Listen to Corinne's call.