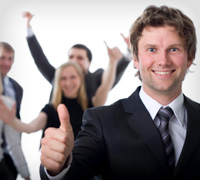 Picture this: It's early Friday afternoon when you suddenly find out you have a chance to sign a huge client. The only problem? He needs a 30-page proposal by 8 a.m. Monday morning. Sound like an impossible challenge?
It probably won't be easy. But if you have a dedicated, passionate team who will pull together and is willing to do whatever it takes to get the job done, miracles (and last-minute proposals) happen. The key is to treat your staff like you would want to be treated—the Golden Rule—and that includes properly compensating them.
As Dave teaches in EntreLeadership, a good compensation plan that motivates and encourages excellent performance contains a lot of variables, depending on your financial situation. Cash awards, like raises, commission, profit sharing and bonuses should be part of your strategy. But studies show non-cash rewards are equally important. And you don't have to break the bank to offer them. A bit of creativity can go a long way. Here are just a few we use to inspire our team.
Feed Their Souls
Whether it's lunch, a gift card to a local restaurant, or even a birthday cake, people get excited about free food. When just starting his business, Dave hosted an occasional company-wide potluck. Besides being an inexpensive way to celebrate, he noticed it was a great vehicle for building relationships. Today it's so important that he caters lunch for all of his team members once a week, and birthdays are celebrated once a month with cake and ice cream.
Be Flexible
In today's world of crazy schedules, long commutes and year-round school calendars, giving your team members the option to choose a specific set of hours is deeply important. You'll need to set parameters, though, that will allow you to conduct business as usual.
Time Off for Good Behavior
After a year of employment, each one of Dave's team members earns one week of time off, totally separate from their vacation time, to work with a ministry or certified nonprofit. To be eligible for "ministry time," team members submit their activity for approval— no one's ministering to their cat for a week. Not only does ministry time allow them to make an impact on a worthy cause and help others in need, but team members also come back refreshed, inspired and ready to roll up their sleeves and get back to work.
Getting Social
Everyone is a kid at heart, so connecting to that inner child can be a great motivator. And the simplest way to do that is to offer some old-fashioned fun. A summer picnic and a Christmas party should both be on your list. But also schedule random, unexpected outings, like renting out the local theater for a team movie night, or taking everyone to the ice rink or pizza parlor. One of the favorites here is an annual watermelon seed-spitting contest. The cost is minimal and the fun enormous.
Creating an excellent compensation plan takes a lot of time, attention and careful planning. But you also need a generous spirit toward those who help you win. Compensate them well. As Dave says, "You will live with fewer regrets, and you will profit more by attracting and keeping extremely talented and passionate people."
No leader should lead without these principles. It's what your team members need to see in you, and what you want to see in them. Learn more about the EntreLeadership Live Events, and put Dave's 20 years of proven business principles to work for you.
In 20 years, Dave has grown his company to a national winning brand with more than 300 team members who have impacted millions of lives. His company has been named one of the "Best Places to Work in Nashville" four years in a row. EntreLeadership is how he's done it and how you can do it too. Get your copy of the new book now!