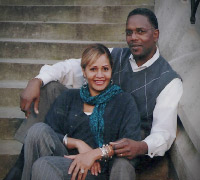 A few years ago, Good Morning America sent a camera crew to Nashville to sit down with Dave and several couples who were struggling with money problems.
In this small-group counseling session, Dave talked to each couple and tried to help steer them in the right direction. Months later, some of the couples returned for a follow-up video on Good Morning America to see how they had been progressing.
One of those couples was James and Monchita Davis. When she and James first sat down with Dave—with cameras all around—Monchita said she felt like a "ball lost in tall weeds or a puzzle with missing pieces."
When they started, the Davis family had $48,000 in debt in credit cards, student loans and taxes. With five kids, they had a lot of responsibility.
Monchita says the Good Morning America experience was life-changing. "The stories told from each person were real, their tears were real. People were experiencing different pain, but the source of that pain was the same—our finances."
After talking with Dave, James said they were grateful and motivated to start making some changes in their lives. Dave set them up to meet with one of his financial coaches, Lisa Barber. From there, James and Monchita began to find hope.
That first meeting with Lisa made an impact on the couple. "We were so open to sharing our situation with her, and we could actually see the possibility of recovering all that was lost."
Lisa talked to them about the debt snowball and the importance of budgeting. The couple made an immediate impression on her. "The thing that struck me most about James and Monchita was their raw and real desire to see their lives changed," Lisa said. "They were completely transparent and totally open to receiving new information and ideas."
As the coaching process continued, things continued to change for the better. James and Monchita communicated with each other and put together a budget. "We fell in love again," Monchita said.
"It's important for couples to realize that they really are on the same team," said Lisa. "There's no 'his' way or 'her' way. It has to be 'our' way to find success. When James and Monchita began working together, it resulted in a lot more than just getting out of debt."
Three years later, James and Monchita are close to completing their debt snowball. Their income is up more than $700 a month, and they only have $8,000 left to pay.
"We've had a few setbacks due to emergency surgery, so we accumulated some unexpected medical bills. But we keep the snowball moving," Monchita said.
James and Monchita have also gone on to become Financial Peace University (FPU) coordinators. "The feeling I received from FPU was so awesome," Monchita said, "that I felt compelled to share my experience with others—to let people like me know that there is hope, and that hope starts with you!"
James adds, "We realized how easy it is to create debt, but the real challenge is staying out of it. We budget and make wise decisions when it comes to spending. We communicate and work very hard at keeping things together."
Lisa said that James and Monchita have been successful because they have worked as a team. "You will get out of it what you put into it," she said. "I feel unbelievably honored to have the opportunity to meet with clients like James and Monchita and play a small role in their success. It's a privilege to watch them not give up and see this type of result."
The message is simple: By working together and not giving up, just like the Davis family, you will see incredible financial results. Count on it.