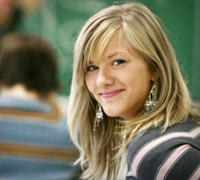 For years, finding a 16-year-old who knew how to balance a checkbook was like finding a Red Sox fan in New York City. Too many teenagers left high school and started college with almost no idea of how to manage their money.
The earlier students understand the importance of financial literacy, the better. Too many kids have been entering college with loans and graduating with tens of thousands of dollars in debt. The Journal of Consumer Affairs recently stated, "Between 1997 and 2007, average undergraduate student loan debt rose from $9,250 to $19,200—a 58% increase after accounting for inflation." That's a serious trend that needs to slow down.
But things are changing for the better. A record number of states now require financial education in high schools. More and more school administrators and teachers are seeing the value in giving students financial tools to succeed after graduation.
Jim King is Dave Ramsey's Vice President of School Curriculum, and he sees the importance of helping students learn about money. Jim and his team help place Dave's school curriculum, Foundations in Personal Finance, in high schools across the country.

Your child can win in life and money. Check out our online courses!
"High school students are our next generation of leaders, decision makers, and givers," he says. "They have been failing basic financial literacy tests on an annual basis, and we need to equip them with the understanding of how money works to set them up for success."
Jim says that the response to teaching financial literacy in schools has continued to increase over the last decade. "We have had a curriculum for nearly 10 years and are currently in over 11,000 educational programs nationwide—everything from public and private schools and home schools, to youth program centers and many other youth-oriented programs."
With April now officially recognized as Financial Literacy Month, more schools are taking part in promoting this all-too-important subject. Last year, the Moreno Valley High School PTA in California has made arrangements with the United Way to provide a three-day Financial Literacy Boot Camp for 350 high school seniors. Star Valley High School in Wyoming got an article in the local paper, held an essay writing competition, and even invited their U.S. Senator to speak on the subject.
That's the type of momentum that Jim King likes to see as Foundations in Personal Finance continues to grow and expand. "We hope to continue our growth in the education market," he says. "Our plan is to have curriculum materials for pre-school through college eventually."
Ultimately, though, let's make financial literacy something we focus on all year long, not just in April. This year, how do you plan on teaching your kids—and yourself—about managing money?
We're helping make financial literacy even more achievable for your homeschool group, high school or college. We provide unique tools to help educators effectively teach students the basics of personal finance. Learn more about the Dave Ramsey school curriculums now!