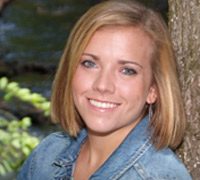 Congratulations to high school senior Kiley E. of Alabama, winner of our $500 Foundations in Personal Finance scholarship contest!
In honor of Financial Literacy Month, we invited students ages 13 and older to take the Foundations Financial Literacy Exam to compete for the scholarship. Kiley came out on top of the more than 15,000 students who took the exam.
Kiley, a class valedictorian with a 4.0 GPA, attended Dave's Foundations classes at her high school. "I am thankful that my school has brought Foundations in Personal Finance to our curriculum so that I do not have to fall into the normal American debt routine," Kiley said. "I have learned how to handle my money so that I can have a better life and leave behind a good legacy."
Kiley will use her scholarship to attend Troy University and study physical therapy. "I want to help restore people who are injured and disabled back to a normal life," she told us.
Listen to Kiley talk with Dave and his daughter Rachel Cruze live on The Dave Ramsey Show. Kiley shares why Dave and his school curriculum have changed her future permanently. In addition to the $500 scholarship, Dave gave Kiley a copy of The Graduates Survival Guide and offered her the choice of any of his books and resources. It's always impressive to find a young person with so much financial savvy!
Dave's Foundations classes can show students in your high school, homeschool group or college how to manage money and avoid debt. Our curriculum includes all the tools educators need to effectively teach the basics of personal finance.