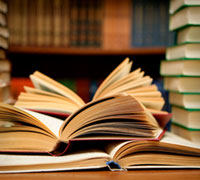 In honor of Financial Literacy Month in April, we're giving high school seniors the opportunity to win a $10,000 college scholarship. Underclassmen are eligible to win one of two $500 Amazon gift cards.
"Financial Literacy Month is all about spotlighting the need to teach our kids about money," Jim King, Vice President of School Curriculum for Dave Ramsey, explained. "We're hoping our exam and scholarship contest get more people talking about how we can accomplish that."
Our Kids Need the Knowledge
For years, studies have shown that our high school and college students lack basic money-management skills. The kids are aware of the problem. Nearly 80% rank their financial know-how as average or poor. But parents are hesitant to discuss money matters with their kids, saying they're more comfortable talking about bullying, drugs and smoking than family finances or investing.
The result: generations of young adults who don't know how to budget or save money while they're buried in $1 trillion of student loan debt.
To combat this problem, Jim and his team have been working more than 12 years to get Dave's school curriculum, Foundations in Personal Finance, in high schools across the country.
Making a Difference in Student's Lives
Sarah Teubner teaches Foundations in Duncanville, Texas. She says before students take her class, their financial literacy is limited to knowing what money is and how to spend it.

Lead others to financial peace! We will show you how. Click here.
"We chose Dave's curriculum because we took Financial Peace University and really liked how Dave views finances," Sarah explained. "He admits that this is a marathon, which is a huge change from the 'get debt-free and rich quick' lingo of other programs."
The course challenges her students to think differently about living without debt. "They think the idea of paying cash for a car is far beyond their reach," she said. "But one student was able to save money from his job to pay for a used Mustang. He credited Dave's class for learning the tools to be able to do that!"
"That's always been the goal of our curriculum," Jim said. "We want to show kids there is a right way to handle money, and if you start off right, you can avoid a lot of the mistakes the rest of us have made."
Contest Details
To enter the contest, students simply take our Foundations in Personal Finance Financial Literacy Exam April 6–25. The 20-question exam will gauge students' knowledge of basic money principles. Those who score at least 90% move on to the random drawings for the scholarship or the Kindle Fire. Any high school student age 13 or older can take the Foundations in Personal Finance Financial Literacy Exam.