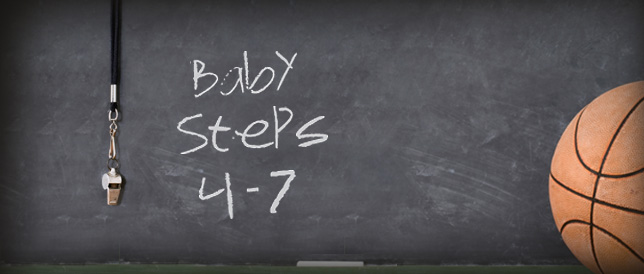 Since November, 347 teams have been fighting to win the NCAA basketball championship. When the NCAA tournament started a couple of weeks ago, 68 teams were still in the running. Now we're down to the Final Four.
Along the way, these final four teams--Louisville, Wichita State, Michigan, and Syracuse--faced many ups and downs. None of them are undefeated, and none got through the season without hitting at least one roadblock. Most of them have several losses and setbacks that kept them up at night. Losing isn't easy.
But they overcame that. And now they have the opportunity to achieve their goal of winning the title.
Sure, that's cool and everything, but what does it have to do with you? And, especially, what does it have to do with you becoming debt-free?
The way we see it, the final four Baby Steps are a great place to be. If you're in the process of getting out of debt, they are your "Final Four," your championship. Once you reach them, you'll have the satisfaction of knowing you've endured the regular season and overcome setbacks along the way. You've gotten out of debt, kicked Sallie Mae and Murphy out of the house, and experienced the fruit of long-term discipline.
Regardless of where you are in the Baby Steps, keep your eyes on the goal and shoot for these final four:
Baby Step 4: Invest 15% of household income into Roth IRAs and pre-tax retirement.
Now it's time to watch your money grow. You've been paying off debt and saving, but now you get to invest! Let compound interest do its magic. Already there? Connect with an investing professional in your area that Dave recommends.
Baby Step 5: College funding for children.
You haven't forgotten about the kids, have you? Whether your kids are in high school or in a high chair, this is one extremely important step. When you're out of debt, the last thing you want to do is make them go into debt by taking student loans out later. Remember though, Dave recommends saving for your retirement first.
Baby Step 6: Pay off your house early.
Yes, you can actually own your own home … outright! Amazing, isn't it? Imagine walking barefoot through your front yard knowing that the grass beneath you is yours, not the bank's! And how cool will it be when all of your mortgage payments can go toward investing and spending? That's a lot of money!
Baby Step 7: Build wealth and give.
This is it. The pinnacle. To get to Baby Step 7, you have to truly believe you will get there. This isn't some pie-in-the-sky dream. It's a realistic goal that you can achieve. Once you get here, remember this is more than about "being rich." It's about being a giver. Get motivated by reading what others are able to do at this stage.
What keeps you motivated to achieve the final four Baby Steps? Join the conversation below!