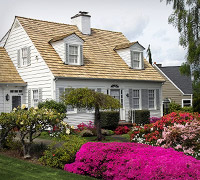 We wanted to hear about the lessons you've learned about real estate, so we asked our Facebook friends to share some success and disaster stories. We got a lot of responses, and we're grateful that you were willing to share your hard-won wisdom.
Eli and his wife, for example, were flooded out of their apartment and living in an RV while they were shopping for houses, but they didn't let desperation cause them to make bad decisions. In spite of the fact that the bank approved them for a mortgage way out of their price range, they bought a house for $35,000 less than they could "afford." With $5,000 and a month's worth of sweat equity, they moved into their home with a 15-year mortgage in July 2007.
"Now, we are on Dave's plan—debt-free in nine months!" Eli wrote. "(We) plan to pay off the house in approximately four years. (We're) so glad we didn't bend to 'conventional' wisdom and build 'just because we could afford the payment.'"
Mark agrees that staying conservative is the way to win. "We bought our home in 1985 and chose not to 'move up' like everyone else, so we paid off our mortgage in about 12 years," he said. "Now at Baby Step 7, we were able to remodel it this year and buy rental property for cash."
Sharon and her husband are also experiencing what it's like to live like no one else. They bought a rental house with cash and found a good tenant who has fallen on hard times. He called to tell them he was having trouble making rent.
"My husband and I are in a position to let him stay in his home and pay what he can," she said. "This man has been a wonderful tenant for several years, and we are blessed to be able to help him in his time of need."
Dave says you should always work with pros on real estate issues. That's how Walt avoided a potential disaster story. He hired a home inspector to check out a house he'd made an offer on. During the electrical inspection, the stove set the kitchen on fire. Later, a contractor who came to bid on remodeling the home found the foundation had settled more than two inches in one corner. "(I) had (an) escape clause in the purchase contract—thankfully!" he said.
Other stories were harder to read, but our Facebook friends were willing to learn and teach others through their mistakes.
Gina tallied up her real estate Stupid Tax. First, she replaced her roof without getting her homeowners' association's approval. Discovering she'd used the wrong color shingles cost her $1,500. Next, she misread the sales contract on her new house and ended up paying $2,000 in discount points at closing. That's $3,500 worth of real estate education!
Dawn learned how frustrating landlording can be when a tenant ripped out her rental home's original parquet flooring and replaced it with peel-and-stick vinyl.
"I look forward to retiring from the rental management biz someday soon," she said.
Finally, Marna told us how Murphy moved in with her when her family convinced her to move out of her cozy one-bedroom apartment and buy a too-expensive home. After a couple of years in the house, the basement wall started to crack. A friend told her it was just a crack in the paint and not to worry. It wasn't.
"I hardly used the basement and didn't realize until it was too late that the crack had spread horizontally and vertically, and now it leaks every time it rains," she said.
Now the fix-it list is growing, but there's no money to pay for it.
"I long for that small apartment again," she said.
You can make buying or selling a home a lot simpler by working with a professional real estate agent. Dave's real estate Endorsed Local Providers (ELP) are experts in your area. Get connected with your ELP today!
We'd love to hear more from you. Do you have a real estate story to share?