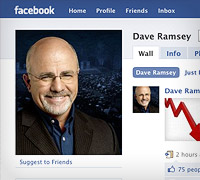 Being a part of Dave's Facebook community is an awesome way to stay connected to Dave and the team. It's one of the best places catch behind-the-scenes glimpses and the most current updates from Dave and his team. Check out some of things you missed this month if you have yet to friend us on Facebook:
Dave's 2010 Budget Fitness Challenge is underway! See the before-and-after budgets of real Dave fans
Blake: $1,476,400 worth of debt paid off by those who got on the phone today during The Dave Ramsey Show on radio and TV to yell "I'm Debt Free"! Year to Date = $8,273,900.
Blake: It's a Seth Godin Friday! Website interview, guest on FoxBiz tonight at 8pm ET and I'll post audio of interview later today!
If you're like the red-faced kid throwing a fit in the candy aisle ("I want it and I want it now!"), you will always be broke. - Dave Ramsey
Blake: 10 Things You Wish You Knew in College. Dave Ramsey Show fans offer advice they learned the hard way.
Join Dave's Facebook community—be among the first to know about happenings in March!