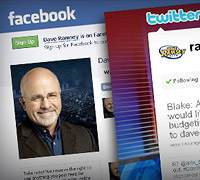 April has been a busy month in the Dave Ramsey social media world! Talk of taxes, foreclosures, budgeting, behind-the-scenes videos at EntreLeadership at Atlantis, and pictures of Dave's trip to Israel are just a few highlights.
Here are some of our top posts, so be sure to friend us on Facebook and follow us on Twitter so you don't miss anything in May!
Facebook Top Five
The saying 'the rich get richer and the poor get poorer' is true! Because the rich keep doing what rich people do and the poor people keep doing what what poor people do. - Dave Ramsey
It's real simple. Do you want to live your entire life in debt? Or would you like a FREEDOM like no other? It's your decision.

DR steps out during a Dave Ramsey Show break to sign books & pose for pics. http://tweetphoto.com/19485404

RT @EntreLeadership: Follow all the goings on & happenings here in the Bahamas for EntreLeadership. Live Blog

90% of taxpayers are projected to receive refunds this year ($3k average). It's not a gift; it's your money you loaned the government for a year. So pay off debt instead of blowing it!
Twitter Top Five
Almost $5 billion went to waste due to unused gift cards in 2009. - CardHub
Drive a car, I'll tax the street. Try to sit, I'll tax your seat. Get too cold, I'll tax the heat. Take a walk, I'll tax your feet.
You are the problem ... but you are also the solution. - Dave Ramsey
You asked for it, you got it. Pics of DR's trip to Israel. DR & wife Sharon sailing the Sea of Galilee. http://twitpic.com/1dwop5

Five Billionaires Who Live Below Their Means http://bit.ly/cIEUup
Get connected now on Facebook and Twitter to stay in the know!