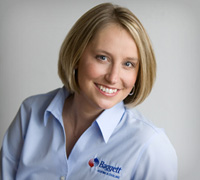 EntreLeadership is not just a theory. Thousands of business owners and leaders are using Dave's principles every day to take their companies and team members to heights they never imagined. In the EntreLeadership Spotlight series, we'll be highlighting some of these great leaders and learning about their dreams, motivation and secrets to success.
Alana Ward is president of Baggett Heating & Cooling in Clarksville, Tennessee. At just 29, she took over the family business from her father. We talked to her about making the tough calls at her company. For more on decision making, listen to this week's EntreLeadership Podcast, which features a lesson from Dave and a special interview with best-selling author Jim Collins.
My Inspiration
My husband and daughter are the constant push behind everything I do. When things get tough and I even think about letting up or quitting, I look at them and remember why I go to work every day. My husband is an eternal optimist and is always there to support and build me up. Many times, the faith he has in me gets me to the next step, when faith in myself has failed. My daughter is the reason I want to succeed. I want to be the kind of mother she respects and hopefully aspires to be like one day. Whether her choice in a career is our family business or something else, I hope to teach her the steps to success.
The Toughest Call
I assumed ownership of the business from my father after working in it for six years. In retrospect, I realize I was very immature and naïve when I made the decision to do so. The business was by no means financially stable when I assumed it, and it continues to be a struggle today. However, I have gained invaluable experience, and I have had success with the company. I also know I can win with this business, and the tools I learned at EntreLeadership are helping me do it.
Taking the Easy Way
I hope this doesn't sound condescending, but I pride myself in not taking the easy way. It always causes more problems in the end. But that's not always been the case. In the past, I have taken the easy way out when it came to recruiting and hiring. It was because of ignorance. I thought I had few options. Being in the HVAC business really didn't demand a thorough, professional hiring process. I would just take someone because the need to fill a position was looming over me. I know it caused way more trouble than it ever eliminated. I'm still not good at hiring, but acknowledgement is the first step, right? It's something our company is dedicated to improving.
Soliciting Advice
By talking through tough decisions with others, you gain their perspectives and usually some keys to solving the problem or making the decision. I don't become a talking head in these situations. I pool their thoughts with my own to come to a decision that I am comfortable with.
My Gut Feelings
I believe that my "gut" never gets involved when things are going smoothly. I just ride through with no "gut" interruption. When I veer from that path, though, my "gut" starts talking. I find when I'm nervous, I'm usually doing something I shouldn't. I remember a time when I knew I needed to terminate an employee. I came up with every excuse under the sun as to why I shouldn't do it. When I finally listened to my gut and terminated him, life was so much easier. I had been held hostage by him and didn't even realize it.
For more on decision making, listen to this week's EntreLeadership Podcast, which features a lesson from Dave and a special interview with best-selling author Jim Collins.