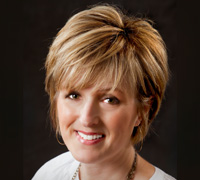 EntreLeadership is not just a theory. Thousands of business owners and leaders are using Dave's principles every day to take their companies and team members to heights they never imagined. In the EntreLeadership Spotlight series, we'll be highlighting some of these great leaders and learning about their dreams, motivation and secrets to success.
My Name: Jane DeLaney
Home: Birmingham, AL
What I Do: I'm founder and president of E-Mealz Inc., a budget-minded online meal planning service that features easy-to-follow shopping lists and recipes.
How I Started
My inspiration grew out of my frustration with the difficulty of pulling off dinner for my own family. One week would be semi-sane with a scribbled-down meal plan on a napkin lost in the bottom of my purse and the next would be sheer chaos. But I was committed to making my family life ordered around an evening meal, where everyone could decompress and come face-to-face with each other. There had to be an easier way.
My Mentor
I have been influenced by many people, but no one comes near to matching the level of impact my parents had on me and on the core of who I am as a person. They are rock solid. Character, integrity, godliness, wisdom, steadfastness, love, grace, strength and dignity only begin the list of who they were to me … and still are.
My Inspiration
Without sounding cliché, I am inspired by our great country and the freedom we each have to create, pursue and succeed. I look back on the eight-year business story of E-Mealz with profound gratitude—knowing that in many other countries there simply would have been no such story.
Freedom has come to me on so many levels, and that inspires me. The fact that I have not had to suffer personally for my freedom is a sacred gift—one that has been handed to me by others who have suffered in my place. I was bought with a price when Christ gave His life for me. Through the grief and loss of every war fought and the loss of every American soldier, I have life, liberty and the pursuit of happiness today. For that, I am thankful and inspired to live gratefully, fully and freely.
What I'm Reading Right Now
All Over but the Shoutin' by Rick Bragg. It's a great book that was recommended as an all-time favorite by a very sharp young man who has freelanced his amazing talent and time for E-Mealz.
My Dream
To simply see the strong growth of E-Mealz continue so that the overflow of its success spills over in powerful and compassionate ways to "the least of these." We don't have to look very far to find opportunities to give out of God's goodness to us.
I am a firm believer in doing the "obvious." One "obvious" that God laid across my path has been the malnutrition and orphan epidemic that exists a short distance from our shores in Haiti.
E-Mealz has partnered with a nutrition project feeding "medika mamba," which means "peanut butter medicine" in Creole, to severely malnourished Haitian children and orphans. Seeing and touching one of these little ones is something I will never forget. Feeding families is core to our values as a company, and my dream is to see E-Mealz become a strong, compassionate presence in Haiti now and over time.
No leader should lead without these principles. It's what your team members need to see in you, and what you want to see in them. Learn more about the EntreLeadership Live Events, and put Dave's 20 years of proven business principles to work for you.
In 20 years, Dave has grown his company to a national winning brand with more than 300 team members who have impacted millions of lives. His company has been named one of the "Best Places to Work in Nashville" four years in a row. EntreLeadership is how he's done it and how you can do it too. Get your copy of the new book now!