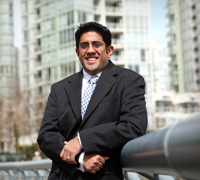 EntreLeadership is not just a theory. Thousands of business owners and leaders are using Dave's principles every day to take their companies and team members to heights they never imagined. In the EntreLeadership Spotlight series, we'll be highlighting some of these great leaders and learning about their dreams, motivation and secrets to success.
My Name: Arif Gangji
Home: Denver, CO
What I Do: I'm president and CEO of Neon Rain Interactive, which is one of the top 10 web development firms in Denver.
My Mentor
I have several mentors for different areas of my life as well as different seasons of life. It was important to find those who have walked the path already. For example, for parenting mentors, my wife and I looked for couples who have grandchildren. By looking at their grandchildren and their children, we know there's substance to what they've accomplished and can see tangible evidence that their wisdom and knowledge is useful.
My Inspiration
The Creator of the universe specifically created me, and I would hate to waste my creation by not pursuing my purpose in life. It includes changing the legacy of my family, our team members and anyone we encounter. As a family, we are inspired to leave others better off than when we first met them.
One obstacle people face is that they want to know their purpose before they get started pursuing it. I don't think it works that way. I'm pretty sure that your purpose becomes more clear as you start moving … so get moving and you'll figure it out.
The Secret to My Success
All you need is faith, family support, perseverance, hard work, discipline, risk-taking, leadership, more hard work, resolve, kindness, vision and thick skin. Practice all of these for several decades, and you'll become an overnight success.
What I'm Reading Right Now
We have a reading challenge in our family, and my goal is to read 24 books this year. I think I bit off a lot, but I'll be close to my goal. At the moment, I'm reading The Goal: A Process of Ongoing Improvement by Eliyahu M. Goldratt. I keep trying to read EntreLeadership. Unfortunately, every time I buy a copy, I end up giving it away to someone starting a business. Maybe I should order in bulk.
Favorite Dave Moment
At the EntreLeadership Masters Series, I realized that everything Dave was teaching was from his own experience. He made a lot of mistakes in business, but he's learned from each one and put in safeguards to keep them from happening again. I'm now even more determined that we will continue to move forward. As we make mistakes, we'll fix them and keep moving. Knowing it's OK to make mistakes is huge.
My Dream
To leave a legacy—financially, spiritually, physically, socially, etc. I want my great-grandkids to be able to point to my wife and our kids as agents of change in our family tree. I want to see thousands of generations of our family going forward blessed and blessing others. Part of that dream includes helping others pursue their dreams. My grandparents and my parents changed our family tree. Now it's our turn to keep pushing things forward.
No leader should lead without these principles. It's what your team members need to see in you, and what you want to see in them. Learn more about the EntreLeadership Live Events, and put Dave's 20 years of proven business principles to work for you.
In 20 years, Dave has grown his company to a national winning brand with more than 300 team members who have impacted millions of lives. His company has been named one of the "Best Places to Work in Nashville" four years in a row. EntreLeadership is how he's done it and how you can do it too. Get your copy of the new book now!