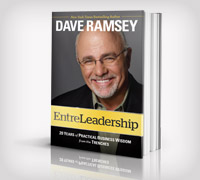 Can we get a drum roll, please? Announcing, with as much fanfare as possible and lots of joy and celebration: Dave's newest book, EntreLeadership: 20 Years of Practical Business Wisdom from the Trenches, debuted at number one on the New York Times best-seller list in the Advice, How-To and Miscellaneous category! The book was released on September 20 and is published by Howard Books.
EntreLeadership is Dave's first book since 2003. In it, he shares personal stories and advice on building and growing a successful business.
Dave says that if you look closely at the pages of the book, you will see they are dotted with lots of blood, gallons of sweat and many tears. That's because its contents are taken from two decades of real-world experience, where he built his company from a card table in his living room to a national brand with more than 300 team members. EntreLeadership outlines the winning principles Dave and his leaders have learned. The book shows you how to: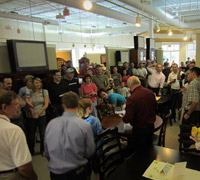 Local Business Stop in Raleigh
Dave signs books at Leather & Wood Furniture Gallery in Raleigh, North Carolina.
Turn your dreams into goals and then accomplish them
Inspire your team to take ownership and love what they do
Turn "employees" into loyal, dedicated team members
Operate your business debt free at any level
Create a business culture that team members want to work in long term
Since its launch, EntreLeadership has inspired and motivated business owners and leaders across the country to take their companies or organizations to the next level. If you haven't had a chance to pick up the book, check out a free chapter at entreleadership.com. You can also sign up for tons of bonus resources online, videos and any of the EntreLeadership live events of your choice, as well as subscribe to the EntreLeadership podcasts and newsletter.