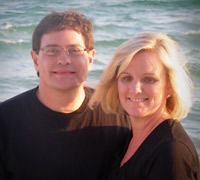 EntreLeadership is not just a theory. Thousands of business owners and leaders are using Dave's principles every day to take their companies and team members to heights they never imagined. In the EntreLeadership Spotlight series, we'll be highlighting some of these great leaders and learning about their dreams, motivation and secrets to success.
What I Do
I'm an asset manager for Southern Company in Birmingham, Alabama. Southern Company provides electric services in Georgia, Alabama, Mississippi and Florida. It's a really great place to work. I've been here nearly 31 years, so you know it has to be. We are consistently listed among the top U.S. electric service providers in customer satisfaction by the American Customer Satisfaction Index, and we topped Fortune magazine's "Most Admired" list in the electric and gas utility sector for 2011.
Why I Like the DISC Profiling System
DISC helps me understand my own personality style and natural strengths and weaknesses when it comes to leading a team. I use a training/development plan to modify my natural behavior to "shore up" these areas of weakness. The DISC profile also helps me understand my team members better, enabling me to communicate and work with them more effectively.
A Characteristic Every Leader Should Possess
Vision. If you don't know where you are going, you can't lead anyone there.
My Mentors
Johnny Mitchell is a co-worker who has been a mentor to me. He exudes all aspects of servant leadership in his work.
My Best Leadership Advice
Examine your motives. If you are going into leadership for the money but you don't like building, growing, leading and maintaining teams, you are going to be very disappointed.
The Secret to My Success
Persistence.
My Favorite Movie
The World's Fastest Indian. It's a true story about Burt Munro, a man who followed his dream and wouldn't be denied. He set the land-speed record in 1967 after years spent building a motorcycle.
My Favorite Business App
Keynote for iPad allows you to easily build amazing presentations and share them with anyone on an iPad, iPhone, iPod, Mac or PC.
To learn more about business, team building and leadership, download our EntreLeadership Podcasts, which include lessons from Dave, plus interviews with key business leaders from across the nation. This week, host Chris LoCurto talks with Tom Rath, author of the best-selling book, StrengthsFinder 2.0.