Business & Leadership
EntreLeader Spotlight: Stephen Scoggins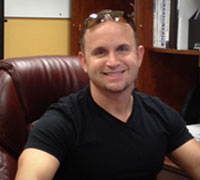 EntreLeadership is not just a theory. Thousands of business owners and leaders are using Dave's principles every day to take their companies and team members to heights they never imagined. In the EntreLeadership Spotlight series, we'll be highlighting some of these great leaders and learning about their dreams, motivation and secrets to success.
Stephen Scoggins is president and owner of Custom Home Exteriors & CHE Home Renovations in Raleigh, North Carolina.
My Biggest Decision as a Leader
Deciding to communicate the WHY behind what we do to incorporate a complete buy-in from my team! Without it, you cannot create the trust needed to be able to delegate.
A Characteristic Every Leader Should Possess
Every leader should exhibit care, humility and accountability, which equal trust.
My Inspiration
People who do not quit when facing adversity—the classic story of the underdog.
My Best Leadership Advice
First and foremost, be accountable. Let your yes be your yes and your no be your no.
How I'm Building My Company Culture
I schedule 15-minute mandatory weekly meetings, where we focus on both the "why" and where we came from. It's a constant reminder to the newer folks.
We make time to give handwritten thank you cards to team members, catching them in the act of doing something right. We use keywords like: "Could not have done it without you," "You rock," or "You are vital to our success."
Sitting down with each of my 30 team members and learning more about their goals, and then mapping out ways to achieve our goals and help them reach theirs.
Making our leaders be readers. We verify it with a book report.
Recognizing weekly wins with loud cheers at production meetings and giving out dinner gift cards for jobs well done.
My Biggest Obstacle to Delegation
Trusting competency, especially when trust has been given and then a mistake was made.
What I'm Reading Right Now
Great by Choice by Jim Collins and Morten T. Hansen.
The Secret to My Success
Prayer and lots of it. I pray for wisdom; to be a creditable, solid teacher; to help me lead my team to green pastures and to fulfill their goals, along with mine and those for the kingdom of God.

Does your business have the right insurance? Connect with a local pro to learn more.
For more tips on leadership, listen to the latest EntreLeadership Podcast, which features a lesson from Dave and a special interview with Jenn Lim, chief happiness officer of Delivering Happiness, a company she co-created with Tony Hsieh, CEO of Zappos.com. Jenn and host Chris LoCurto discuss company culture and inspiration.