Business & Leadership
EntreLeader Spotlight: Melissa Meiste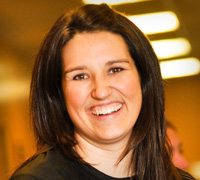 EntreLeadership is not just a theory. Thousands of business owners and leaders are using Dave's principles every day to take their companies and team members to heights they never imagined. In the EntreLeadership Spotlight series, we'll be highlighting some of these great leaders and learning about their dreams, motivation and secrets to success.
My Name: Melissa (Nephew) Meiste
Home: Holland, Michigan
What I Do: I'm a physical therapist and owner of Nephew Physical Therapy.
The Secret to My Success: Persistence and faith.
My Inspiration
My patients and clients. They are the ones who keep me going. When I have an individual who comes to therapy—one who thinks that living with pain is normal and doesn't believe they can be pain-free—it inspires me to do my best. I'm so lucky. I have the opportunity every day to help people get their lives back. We do what we do because we love people, and we want them to LIVE and LIVE LARGE.
Favorite Business App
Google Tasks lets me keep a list of the important tasks I need to complete. It's on the front screen of my phone, so I can easily check it and give the tasks deadlines, and it's always connected to my e-mail. With all the ideas and tasks I need to complete, it's nice to have a place to put them down where I can't lose them.

Does your business have the right insurance? Connect with a local pro to learn more.
What I'm Reading Right Now
The E-Myth Revisited: Why Most Small Businesses Don't Work and What to Do About It by Michael E. Gerber and, of course, EntreLeadership.
Favorite Dave Moment
It was during my EntreLeadership experience. Because I attended the event in Nashville, we were able to take a tour of the Lampo Group offices. We also took a field trip to the building where Dave first went out on his own. With a cup of hot cocoa in hand, I listened as Dave stood on the back of a pick-up truck and told us how disappointed he was when his first attempt at financial counseling failed. I remember him saying that he was mad at God. God's response: "How can you be mad at me for closing the business if I own it?" It brought tears to my eyes. Since that day, I have lived by the philosophy that God owns Nephew Physical Therapy and continue to give up control to Him.
My Dream
I am still working on crafting my dream. What I do know is that I want to provide the best in physical therapy, whether it's just in Holland, Michigan or across the nation.
No leader should lead without these principles. It's what your team members need to see in you, and what you want to see in them. Learn more about the EntreLeadership Live Events, and put Dave's 20 years of proven business principles to work for you.
In 20 years, Dave has grown his company to a national winning brand with more than 300 team members who have impacted millions of lives. His company has been named one of the "Best Places to Work in Nashville" four years in a row. EntreLeadership is how he's done it and how you can do it too. Get your copy of the new book now!