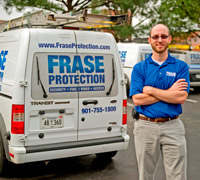 EntreLeadership is not just a theory. Thousands of business owners and leaders are using Dave's principles every day to take their companies and team members to heights they never imagined. In the EntreLeadership Spotlight series, we'll be highlighting some of these great leaders and learning about their dreams, motivation and secrets to success.
Jonathan Frase is president of Frase Protection in Memphis, Tennessee. Frase Protection is a commercial and residential security and alarm monitoring company.
My Inspiration
Will Jones is pastor of my church in Germantown. He is humble and transparent, yet stands strong on his Christian beliefs in the face of social and cultural pressures. He's the kind of guy who makes you feel like a better person by simply being around him.
My Biggest Decision
I left a comfortable, high-paying job to help run the family business. My job at the time involved travel nearly every week. My wife and I had our first child, and our time together was limited. There was an opportunity to purchase the family business from my parents. I had no idea my father would succumb to pancreatic cancer only four years later. But those four years gave dad and me time to really enjoy working together. It also gave me enough time to gain the experience necessary to run the business. Right after he was diagnosed, I attended EntreLeadership in Cancun, Mexico. It helped prepare me to effectively run the company.
A Characteristic Every Leader Should Possess
Relational intelligence
My Best Leadership Advice
Never stop reading, learning and developing as a leader.
Be slow to speak and quick to listen.
Effective delegation is a learned skill. It's one of the keys to maximizing your team's impact on the organization.
My Mentor
John Cerasuolo runs a much larger company in a different market within the same industry. John has been willing to share some of his insights and the practices that are working at his company. He has years of leadership experience, and his passion for excellence permeates his organization. I want to be like him when I grow up!
What I'm Reading Right Now
Great by Choice by Jim Collins
The Toughest Leadership Call
Each time a staff member is let go, it's difficult and stressful. But it's also a huge relief after the dust settles.
For more tips on leadership, listen to the latest EntreLeadership Podcast, which features a lesson from Dave and a special interview with Cordia Harrington, owner of Nashville Bun Company, a baking conglomerate that supplies buns and English muffins to more than 600 McDonald's restaurants, plus many other national clients.