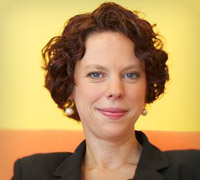 EntreLeader Jenn LaBatt
"I am inspired by ... people who are willing to be unpopularly different and people who survived unsurvivable circumstances."
EntreLeadership is not just a theory. Thousands of business owners and leaders are using Dave's principles every day to take their companies and team members to heights they never imagined. In the EntreLeader Spotlight series, we'll be highlighting some of these great leaders and learning about their dreams, motivation and secrets to success.
My Name: Jenn LaBatt
Home: St. Louis, MO
What I Do
Owner and CEO of Cotton Babies Inc., a worldwide supplier of cloth diapers and other baby items with three retail locations.
How I Started
A great idea and $100 worth of product in a milk case on my kitchen shelf.
My Mentor
I don't really have one. Instead, I spend time reading about and researching various people who have been successful in life, looking very closely at places where they have failed and how they have learned from those failures. I also have a number of experts from various fields that I rely on for occasional advice. However, friends and experts don't always have answers—leaving me spending a lot of time reading, researching, and praying about our next steps.
My Inspiration
I've been inspired by so many people: my family, my children, various authors, historical figures, business leaders, people who failed and got back up again, people who didn't give up, people who are willing to be unpopularly different and people who survived unsurvivable circumstances.
The Secret to My Success
A supportive husband who lets me dream; children who inspire me to create; careful step-by-step growth; stubbornness; Google; an amazing staff; and prayer.
Favorite Business App
I use Appigo's Todo Task Manager app extensively. It organizes my writing, my to-do lists, my brainstorming and my day, and it helps me stay on track with projects. The online iPhone and iPad interfaces work well and are constantly in sync, meaning that I have everything I need wherever I am and on whatever device I'm using.
Favorite Dave Moment
I first heard Dave speak during a conference held early in 2011. He was describing issues that Cotton Babies has faced over and over again, wrestled with, questioned and wondered if we might have been wrong in our strategy. We were so encouraged to hear him describe our strategies as "wisdom" and "what makes a business successful in the long run."
My Dream
Some day, I want to sit next to my husband in a porch swing on a wraparound porch outside a yellow farm house while we watch our grandchildren play in the yard. I want to see our children and grandchildren dreaming big dreams and living them out to the best of their ability. Then one day, after we are really old and have wrung every drop of living out of the life that God gave us, I want to look Jesus in the face and hear, "Well done."
Listen to Dave talk about the great work Jenn is doing.
No leader should lead without these principles. It's what your team members need to see in you, and what you want to see in them. Learn more about the EntreLeadership Live Events, and put Dave's 20 years of proven business principles to work for you.
In 20 years, Dave has grown his company to a national winning brand with more than 300 team members who have impacted millions of lives. His company has been named one of the "Best Places to Work in Nashville" four years in a row. EntreLeadership is how he's done it and how you can do it too. Get your copy of the new book now!