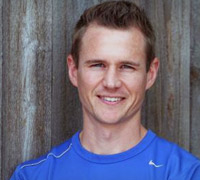 EntreLeadership is not just a theory. Thousands of business owners and leaders are using Dave's principles every day to take their companies and team members to heights they never imagined. In the EntreLeadership Spotlight series, we'll be highlighting some of these great leaders and learning about their dreams, motivation and secrets to success.
What I Do
My wife, Cassie, and I change lives every day by inspiring others to become better versions of themselves. We spread our message through our fitness and performance training facility, West U Fitness, in Houston, Texas.
A Characteristic Every Leader Should Possess
You have to be a servant. Serve your spouse, family, team, clients and customers, and even those you pass on the street. You need to help others around you become better versions of themselves. When you serve, you create meaning. And when you create meaning in the lives of others, profits will flow in abundance.
My Mentors
I truly have to say Dave Ramsey. I have listened to him for more than 10 years now and invested time in his teachings at EntreLeadership Master Series. In fact, I've sent my entire team to his events. I've run my business debt-free for more than four years now and have been able to do some amazing things as an organization because of it. I still tune in every day to listen to the show for his wisdom, which I will pass along to my two little girls, my team and my clients.
My Best Leadership Advice
Find mentors and learn everything you can from them. Challenge the status quo by always asking why and never accept things "just because."
Best Lesson Learned
I realized that for my team to operate with purpose, I needed to find my own first. Since defining my purpose, my team and business have flourished.
My Greatest Passions
I have three passions: Inspiring others to become better versions of themselves, spending time with my wife and our two daughters, and living a fit and healthy life.
Best Way to Keep My Competitive Edge
It's never settling for mediocrity by saying that I've learned enough or I know it all. It's constantly asking myself, If I can do better, should I? It's striving to maintain great levels of health, energy and fitness, so I can be at my best daily for my family, my team and my clients. By understanding my God-given purpose in life, I know I must endlessly pursue excellence in all areas. And that pursuit requires continuous improvement.
My Secret to Success
Delayed gratification. We live in a sound-bite culture—a five-second-attention-span society that wants everything yesterday. When my wife and I opened West U Fitness, our goal was to pay off our $219,318.42 debt (business & home). We made small daily sacrifices that helped us. In just 22 months, we paid off our entire debt, including the house. Fast-forward three years. We were able to take our entire nine-person team to the Cayman Islands to stay at the Ritz Carlton for four days. We picked up the tab on everything. We could do it because we delayed gratification and lived like no other, so later we could live like no other and truly show our team how much we care for them.
To learn more about business, team building and leadership, download our EntreLeadership Podcasts, which include lessons from Dave, plus interviews with key business leaders from across the nation.