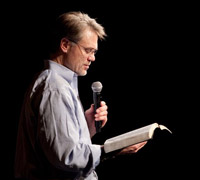 EntreLeadership is not just a theory. Thousands of business owners and leaders are using Dave's principles every day to take their companies and team members to heights they never imagined. In the EntreLeadership Spotlight series, we'll be highlighting some of these great leaders and learning about their dreams, motivation and secrets to success.
Dr. Michael Easley is a teaching pastor at Fellowship Bible Church in Brentwood, Tennessee. Before joining Fellowship, he served as president of Moody Bible Institute in Chicago, Illinois.
My Biggest Decision as a Leader
Without question, it's firing people. The corollary is more important—making the right hires. But when you inherit staff or have to let someone go, it's hard, unfriendly and rarely goes well. No matter how tough, though, you have to do the right thing for the right reasons.
A Characteristic Every Leader Should Possess
Initiative.
My Mentors
One was a retired psychologist, who was in many ways the father I never had. He believed in me, encouraged me, and asked great questions. The other was a former professor, who was both an outstanding teacher and practitioner. He was always my sounding board, able to clear my thoughts to what was the issue in front of me.
My Best Leadership Advice
You must have humility in learning the organization and how to lead, and courage in making the right decisions at the right time.
My Biggest Obstacle as a Leader
Dealing with the loneliness of the position, yet being real/available to people. There's a constant tension as a leader. You know things, do things, and make hard choices that no one knows or understands. You cannot look for your managers/team members to understand—and it would be improper to expect them to. The outside mentors are great, but there's an exquisite loneliness that goes along with leadership that is interesting to navigate.
The Secret to My Success
Perseverance and trying to always improve. I've found this axiom to be true: "There's only a little difference between men; but the little difference makes all the difference."
My Favorite Movies
O Brother, Where Art Thou?—delightful nonsense; Jeremiah Johnson—challenges trying to create a perfect life; The Spanish Prisoner—clever beyond explanation; Almost any John Wayne movie (best Western of all time: The Searchers) because it's John Wayne; Moonstruck—reminds me of my Italian heritage; Corrina, Corrina —a family fave; and, of course, The Princess Bride.
My Leadership Style
It has changed over the years. Early on, I was all about consensus and relationships. Then I was placed in a position where I had essentially complete authority and responsibility. I think now it's more of a combination of relational and goal-oriented. Meaning, you can lead better as the relationships are strong, but you also must have goals you are working toward.
To learn more about business, team building and leadership, download our newest EntreLeadership Podcast. You'll hear more from Dave, as well as a special question and answer session with two of his team leaders: Chris LoCurto, vice president and host of the EntreLeadership Podcast, and his producer, Chris Mefford, vice president of Live Events.