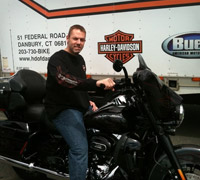 EntreLeadership is not just a theory. Thousands of business owners and leaders are using Dave's principles every day to take their companies and team members to heights they never imagined. In the EntreLeadership Spotlight series, we'll be highlighting some of these great leaders and learning about their dreams, motivation and secrets to success.
David Phillips is CEO of Dixie Specialty in Jackson, Mississippi. The company is a specialty insurance broker for clients in Mississippi, Tennessee and Louisiana.
My Biggest Decision Ever
There are actually two that are interconnected. The first was leaving a burgeoning career in the Air Force to come home and help run the family business after my father's untimely death in December 1999. The other decision was to purchase my sister's interest in the company in October 2011 to become the sole owner of the family business.
Both decisions were so critical because there were multiple, complex factors to consider, and many people and their lives and livelihood were at stake. In the end, a legacy continues and people get to become part of something bigger than themselves, which will continue to influence generations.
A Characteristic Every Leader Should Possess
Innovation. Life is changing and people are changing. If a leader is not able to be innovative, then the business will stagnate and ultimately become obsolete.
My Best Leadership Advice
Have a teachable heart. You don't know everything, and you WILL have to depend on others.
My Mentor
Tyrone Schmidt was my supervisor when I was in the Air Force. Sgt. Schmidt saw something in me that I did not see in myself. It was at a time in my life when my confidence was at an all-time low. He kept putting me in situations that forced me to be more than I was. He gave me the opportunity to excel in the Air Force, which propelled my confidence and showed me that I am a leader and capable of leading.
The Secret to My Success
I never give up. No matter the situation or circumstance, there is always a way out; and you will have grown in wisdom, favor and stature as a result of the process of walking through that situation or circumstance.
To learn more about business, team building and leadership, download our EntreLeadership Podcasts, which include lessons from Dave, plus interviews with key business leaders from across the nation. This week, host Chris LoCurto talks with best-selling author Andy Andrews on the power of failure.