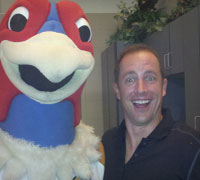 EntreLeadership is not just a theory. Thousands of business owners and leaders are using Dave's principles every day to take their companies and team members to heights they never imagined. In the EntreLeadership Spotlight series, we'll be highlighting some of these great leaders and learning about their dreams, motivation and secrets to success.
What I Do
Craig Libis is the CEO of Executive Recruiting Consultants (ERC) in Dell Rapids, South Dakota. ERC specializes in the recruiting and placement of individuals in a number of industries.
My Biggest Decision as a Leader
So far, it's been hiring our director of operations. Most of our team works on a commission basis, and we took the risk of hiring a salaried individual. She was the right one, and it paid off tenfold. I could not be prouder of her accomplishments and our growth because of it.
A Characteristic Every Leader Should Possess
Integrity.
My Best Leadership Advice
Don't be afraid to fail, because you will. You just have to get back up again. And treat others as you would like to be treated.
My Mentors
Many leaders inside our industry are my mentors. They speak the truth and don't let me hear what I want to hear—forcing me to change my level of thinking. They have unwavering integrity too.
How I'm Building My Company Culture
We enacted a no-gossip policy and added incentive-laden tropical trips, fun monthly contests and free fitness memberships.
How I Recognize My Team
We give out monthly awards, cash bonuses and plaques.
The Secret to My Success
Hard work, unwavering support from my family and the people that are part of our team, and blessings from God.
To learn more about business, team building and leadership, download our EntreLeadership podcasts, which include lessons from Dave plus interviews with key business leaders from across the nation. This week, host Chris LoCurto discusses company culture with Jenn Lim, Chief Happiness Officer of Delivering Happiness, a company she co-created with Tony Hsieh, CEO of Zappos.com.