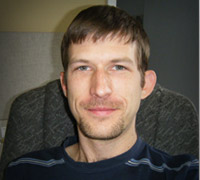 EntreLeader Brad Tibbs
"I want to grow a very successful business that will support my volunteerism and allow my family the privilege of giving our lives away in service," Brad shared.
EntreLeadership is not just a theory. Thousands of business owners and leaders are using Dave's principles every day to take their companies and team members to heights they never imagined. In the EntreLeader Spotlight series, we'll be highlighting some of these great leaders and learning about their dreams, motivation and secrets to success.
My Name: Brad Tibbs
Home: Boise, Idaho
My Company: Boise Auto Clearance
My Mentor
His name is Ed Weaver, and he's more of a life mentor than just a business one. He has an incredible way of seeing things on a level I tend to overlook. More than anything else, Ed has taught me that I am worthy of the tasks before me, and that I should have no fear of conquering the "giants" in life's battles. He's also helped give me a perspective that guides me to balance my time at home, work, with others and with myself.
My Inspiration
I am inspired by those who have the control to say no to things that are good in order to make room for things that are GREAT! Too often, I find myself saying yes to things that are fun or make me feel happy. But they take up my time and money and leave me with second or third best. Those with the discipline and focus to say no to good things will get to experience far more than those of us who settle and say yes to the merely good things.
The Secret to My Success
Being successful in business requires intentionality, which means stopping the daily grind long enough, and on a regular basis, to look beyond today, set some goals, and then plan strategic steps to reach those goals. It also means weighing the costs and the potential returns of outsourcing some of my responsibilities to others so I can, as Dave says, "work on my business, not just in my business."
Favorite Business Apps
In general, I'm a huge iPhone user. I like Vlingo (vlingo.com) because I can tell my phone to Google things or get me directions to places without typing anything. It will even transcribe voice-to-text emails and SMS. The other one is LogMeIn Ignition, which allows me to remotely access my PC from my iPhone. My phone substitutes for a laptop in a pinch, and I carry it in my pocket!
What Are You Reading Right Now
I recently started Parallel Thinking by Edward de Bono. It's about how people think and the way the world works in parallel, inter-connected systems, rather than in the linear style of "computing" that the Western world has adopted. It shows the flaws of compartmentalizing everything into categories and making judgments too quickly. It's not overtly a business book, but helpful as we think about marketing and how people are influenced and make decisions.
Favorite Dave Moment
When I approached Dave in the lobby of the Swan and Dolphin in Orlando, Florida, where he was waiting in line at the hotel's front desk. He was so willing to speak to me about a serious question I had about my business. It seemed as if we had known each other for years.
My Dream
To be the husband my wife married and the dad my kids will love to be with. I want to be full of integrity, generous with forgiveness, and care more about people than money. I want to spend most of my years serving with a mission organization in South America, bringing maximum impact and healing to those with very few opportunities and resources. With all that said, I want to grow a very successful business that will support my volunteerism and allow my family the privilege of giving our lives away in service. To me, that sounds like more fun than anything else I can imagine.
Listen to Dave talk about the great work Brad is doing.
No leader should lead without these principles. It's what your team members need to see in you, and what you want to see in them. Learn more about the EntreLeadership Live Events, and put Dave's 20 years of proven business principles to work for you.
In 20 years, Dave has grown his company to a national winning brand with more than 300 team members who have impacted millions of lives. His company has been named one of the "Best Places to Work in Nashville" four years in a row. EntreLeadership is how he's done it and how you can do it too. Get your copy of the new book now!