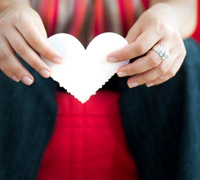 Sure, the occasional elaborate gift can be fun, but most people will cherish a gift from the heart for many years to come. Dave's reliable Facebook fans responded to the call for romantic, yet budget-friendly, Valentine's Day celebration and gift ideas. Here are some highlights:
We've been married two years. Every year, I write 95 reasons I love my hubby (the number of days from Valentine's Day to our anniversary on May 19) and put them on strips of red paper. They fill up a mason jar nicely. Every morning before he leaves for work, he pulls a reason I love him. It really makes his day and makes me realize what a great hubby I have! —Christy
I taught myself how to play "The Love of My Life" by Jim Brickman and Michael W. Smith for my wife. Sheet music was around $5 and about 16 hours of my time. Well worth it. —D.J.
One year, I made 101 paper hearts and on each one wrote something I loved about him. I stuck them all over the house. It took him a week to find them all. —Rhonda
One year, I gave my husband a card saying, "In lieu of a gift, contributions have been made in your name to the mortgage company, the electric company, the phone company..." We both had a good laugh! —Julie
My husband makes me a photo calendar each year for Valentine's Day. It costs approximately $30, but I get to enjoy it every day of the year. Each month has different photos of our kids, family and special days of the year. I can't wait to get it each year! —Stephanie
We go to the Hallmark store and show each other the cards we would have bought if it were in our budget! —Christopher
For an inexpensive date, have your local pizza parlor make a pizza in the shape of a heart with "love" written in pepperoni. Drop off some flowers at the restaurant and make arrangements for the pizza and the flowers to be delivered unexpectedly. She will love you for it, and you can do this for less than $40. —Jack
Share your own ideas by leaving a comment below!
How do you celebrate Valentine's Day with your kids or students? Let us know!