Saving
Simple Gourmet Valentine Menu for Two
Sure, you could go out for Valentine's Day, but nabbing a restaurant reservation is more the expectation than surprise. Give this red-letter day extra sparkle by cooking for that special person in your life. Everyone knows the way to the heart is through the stomach, and few things say "I love you" more than a home-cooked meal. It's soul food in every sense of the term.
This mouth-watering Valentine's Day menu will have you looking like a pro, even if you're new in the kitchen. Better still, this delicious meal delivers splurge-worthy results without breaking the bank.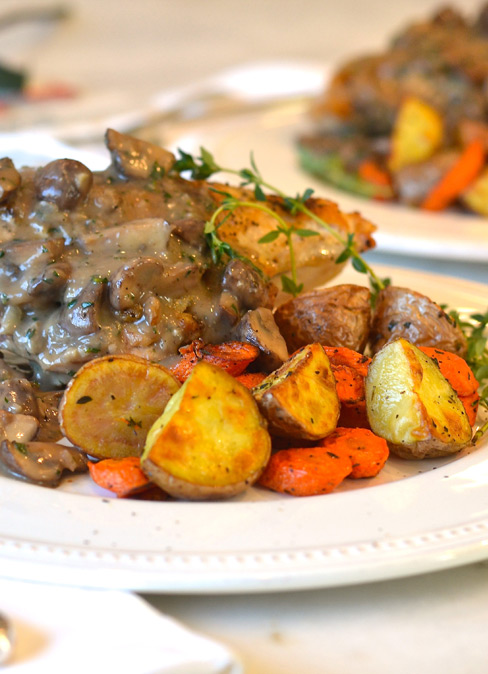 Crispy Chicken Breasts With Mushroom Pan Sauce
Crispy, oven-roasted chicken breasts are topped with a rich, yet simple, thyme-infused mushroom sauce. (Sounds fancy, but it's easy enough even for a culinary novice.)
Makes two servings.
2 bone-in, skin-on chicken breasts
1/2 tsp salt, 1/2 tsp pepper, divided
1 Tbsp olive oil, divided
1 (8-oz) pkg crimini or white button mushrooms, quartered
1 small shallot, minced
2 tsp chopped fresh thyme
1 clove garlic, minced
1 cup reduced-sodium chicken broth
1 Tbsp all-purpose flour
1 Tbsp butter
Preheat oven to 350°F.
Sprinkle chicken with 1/4 tsp each salt and pepper.
Heat 1/2 Tbsp oil in an ovenproof skillet over medium-high heat. Add chicken, skin sides down, to pan; cook 4 minutes or until skin is browned. Turn chicken; cook 2 minutes longer.
Place skillet in oven with chicken, skin sides up, and bake 45 minutes or until chicken is done.
Remove chicken from skillet; return skillet to stovetop over medium heat.
Add remaining 1/2 Tbsp oil and mushrooms. Cook 5 minutes; add shallot, thyme and garlic. Cook 2 minutes.
Whisk broth and flour until blended; gradually add to skillet, stirring constantly.
Bring to a boil; reduce heat, and simmer 5 minutes.
Stir in butter and remaining 1/4 tsp each salt and pepper.
Drizzle pan sauce over chicken.
Roasted Red Potatoes and Carrots
Roasting red potatoes and carrots elevates these humble veggies to tasty new heights. (Pop the veggies in the oven at the same time as the chicken.)

Ready to start saving? Download our free budgeting tool today!
Makes two servings.
1/2 lb small red potatoes, cut in half
1/2 lb carrots, cut into 1/2-inch thick slices
1 1/2 Tbsp olive oil
2 tsp chopped fresh thyme
1/2 tsp salt, 1/4 tsp pepper
Preheat oven to 350°F.
Combine potatoes, carrots, oil, thyme, salt and pepper on a rimmed baking sheet.
Bake 30 to 40 minutes or until tender, stirring after 20 minutes.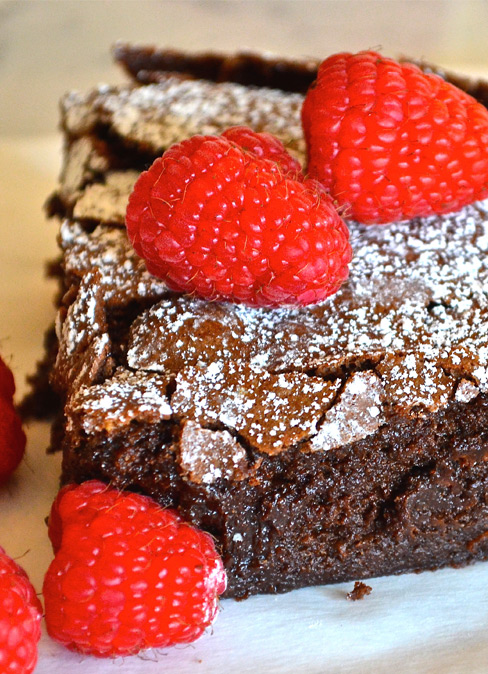 Dark Chocolate Torte
The fudge-inspired, chocolaty torte will have you singing its praises—and someone special singing your praises, as the crowning touch to your meal. (Bake this yummy dessert up to a day ahead so it's ready to go when the main course is done.)
Makes 1 (9-inch) torte. You can use a 9-inch round cake pan as an option. For best results with this version, slice and serve the dessert right from the pan.
(Butter and flour for pan prep)
7 oz dark chocolate baking squares, chopped
1/2 cup butter (1 stick)
4 eggs, separated
1 cup sugar
3 Tbsp flour
Optional garnishes: powdered sugar, fresh berries
Preheat oven to 275°F.
Butter and flour a 9-inch springform pan.
Melt chocolate and 1 stick butter in a heavy saucepan over low heat, stirring often.
Remove from heat; cool 5 minutes.
Whisk together egg yolks, sugar and 3 Tbsp flour; gradually add chocolate mixture, stirring to blend.
Beat egg whites with a mixer on high speed until stiff peaks form; gently fold beaten egg whites into chocolate batter (don't over mix).
Pour into prepared pan. Bake 45 minutes (toothpick inserted in the center will not come out clean).
Cool in pan 10 minutes; remove sides of pan. Cool completely on a wire rack.
Garnish, if desired.
See why Dave Ramsey recommends eMeals to help you take control of your family meal planning and food budget.