Saving
Easy Last-Minute Holiday Entertaining
Do you have more Christmas to celebrate but no room left in your budget? You can still enjoy entertaining with go-to, budget-friendly holiday recipes that come together in 30 minutes or less. We have a trio of recipes that will help create the perfect holiday atmosphere—and they'll save you money.
Keep the stress to a minimum when you are surprised with unexpected guests or want to throw a little party without busting the budget. Here's to drinking in every drop of joy and savoring every moment of the holiday with family and friends!
Get more recipes and meal plans at eMeals.com.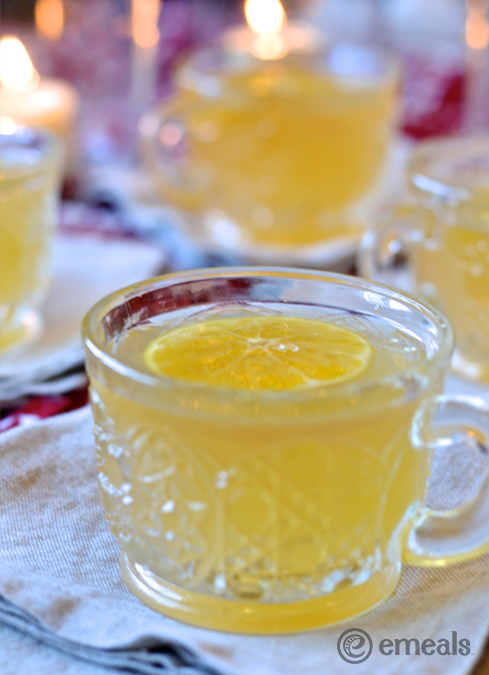 Drink: Lemon-Orange Wassail
Lemon-orange wassail makes use of inexpensive frozen juices like lemonade for a sweet pucker in every sip. Combine the juice concentrates, water, sugar and spices then leave the wassail simmering on the stovetop or in your slow cooker. Slice an apple or an orange and perhaps a cinnamon stick to garnish each cup. The best part? It fills the house with the aroma of Christmas!
Makes 80 four-ounce servings.
12-ounce can frozen orange juice
12-ounce can frozen lemonade
3 cups sugar
8 sticks cinnamon
2 heaping teaspoons whole cloves
Garnish: orange, lemon or apple slices
Place all ingredients and 2 1/2 gallons water in a very large stock pot. 
Bring to a boil then reduce heat and simmer until the sugar is dissolved.
Garnish each serving.
Note: If you're using an electric urn, add all the ingredients to urn and turn it on. Let it brew for an hour. Place cloves in small metal mesh tea bag or cloth spice bag so they don't become stuck in the spigot.

Ready to start saving? Download our free budgeting tool today!
Main Course: Chipotle Chuck Roast Chili
The recipe will fill a family-size slow cooker or large soup pot for about $3 a serving. It feeds a crowd with a budget-friendly cut of beef and a handful of other ingredients. Just toss it all together then walk away! The longer it lingers on low, the more tender the meat will be. Present it to your guests in festive mugs with an assortment of toppings.
Makes 10 servings.
3 pounds boneless chuck roast, trimmed and cubed
2 onions, chopped
1 green bell pepper, chopped
2 cloves garlic, minced
29 ounces fire-roasted diced tomatoes (2 cans)
32-ounce carton beef broth
1 tablespoon minced chipotle pepper (from can)
1/2 tablespoon adobo sauce (from can)
1 teaspoon kosher salt
1 teaspoon pepper
Combine the beef, onion, bell pepper, garlic, diced tomatoes, broth, chipotle pepper, adobo sauce, salt and pepper in a greased 5- to 6-quart slow cooker.
Cover and cook on low 7 to 8 hours or until the beef is very tender.
Spoon into serving mugs and add optional toppings including shredded cheddar, sour cream, or your favorite coleslaw and fresh lime wedges.
Dessert: Double Chocolate Peppermint Bark
Double chocolate peppermint bark is a snap to make. Just melt, spread, and sprinkle! After it hardens, break it into bite-size pieces and serve it to drop-in guests. With just three ingredients, you can whip up a batch for around $10. Serve it at your get-together or package it up for perfect homemade gift-giving. The equivalent amount at Williams-Sonoma would be $90!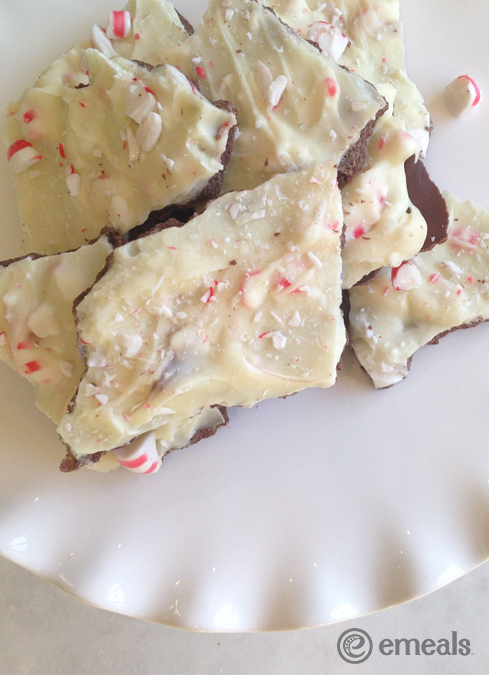 Makes 3 pounds.
24-ounce package milk chocolate morsels
24-ounce package white chocolate morsels
1 cup coarsely crushed hard peppermint candies
Microwave milk chocolate in a large glass bowl for 2 minutes or until melted and smooth, stirring every 30 seconds. Spread on a large-rimmed baking sheet lined with parchment paper. Chill 1 hour.
Microwave white chocolate in a large glass bowl for 2 minutes or until melted and smooth, stirring every 30 seconds. Stir in 1/2 cup crushed candies and spread over milk chocolate layer. Sprinkle with remaining candies. Chill 1 hour or until hardened.
Break candy into irregular pieces to serve. Store in airtight containers in refrigerator for 1 to 2 weeks.
See why Dave Ramsey recommends eMeals to help you take control of your family meal planning and food budget.