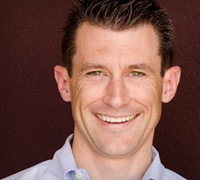 EntreLeadership is not just a theory. Thousands of business owners and leaders are using Dave's principles every day to take their companies and team members to heights they never imagined. In the EntreLeadership Spotlight series, we'll be highlighting some of these great leaders and learning about their dreams, motivation and secrets to success.
What I Do
I am chief financial officer for Solterra Senior Living in Scottsdale, Arizona. Solterra offers a continuum of care for seniors at five residential communities in Arizona and Colorado.
A Characteristic Every Leader Should Possess
Openness. A leader must be approachable, welcome feedback—whether positive or negative—and be receptive to ideas other than his/her own.
My Mentors
I can't pin it down to just one. A good friend, Larry, is my mentor from a technical aspect. He has taught me to think critically and ask the right questions to constantly challenge myself on what I am doing and how I am doing it. My father, a successful entrepreneur, taught me the importance of people. He cares deeply about people and is never afraid to get in the trenches with them. Both men are passionate about my success and have challenged me in many ways to find my own path in getting there.
My Best Leadership Advice
Trust is key. It can sometimes take work to earn, but once it's lost, it is almost impossible to earn back.
My Best Hiring Advice
You have to make a huge time investment when hiring to get the right people in the right seats on the right bus. Time and money on the front end will save two to four times as much down the road.
If I'd Knew Then …
I would be much more diligent in hiring, set clear expectations in all that I do, and make our culture infectious and viral from the outset.
I'm Passionate About ...
My family. I am blessed with an amazing wife and two fantastic kids.
Learning. I constantly seek knowledge and personal growth—business-related, personal interest and biblical.
Fitness and sports. I love to challenge myself physically and mentally, but watching others in sports is also a great way for me to unwind.
How to Beat the Competition
Constantly ask, "Why not?"
My Favorite Part of the Job
Our people genuinely care about each other and our residents. No matter what happens—and we have challenges—it goes a long way. It makes it easier to enjoy the highs and allows us to grind through the lows.
To learn more about business, team building and leadership, download our EntreLeadership Podcasts, which include lessons from Dave, plus interviews with key business leaders from across the nation.