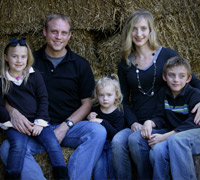 EntreLeadership is not just a theory. Thousands of business owners and leaders are using Dave's principles every day to take their companies and team members to heights they never imagined. In the EntreLeadership Spotlight series, we'll be highlighting some of these great leaders and learning about their dreams, motivation and secrets to success.
What I Do
I am President of TechKnowledgey in Goshen, Indiana. We provide IT services for Elkhart County, St. Joseph County and North Central Indiana. We're also a Xerox Authorized Sales Agent.
A Characteristic Every Leader Should Possess
A leader must have vision. They need to be able to clearly see the place they are rallying their followers to go.
My Mentors
I've been fortunate to have many good mentors. Their stories and influence have filled my book of life. Dave has been a mentor from a distance. And then last fall, I met him at EntreLeadership Master Series in San Antonio, Texas. When we got into the motivation-and-personality profile studies, it was easy to understand why I considered him someone to look up to. Dave is Dave, and I am not. But we are wired the same. Dave learned and took his licks along the way too. It makes him a natural fit for me to look to as a mentor.
My Best Leadership Advice
You do not know what you do not know. Start small, volunteer for a leader you admire, make mistakes while you're still small. You will gain the experience needed to increase your influence for the bigger ballgames. There is a shortage of good leadership in our world. Your time will come soon, if you are ready.
My Best Hiring Advice
Be patient until you find the exact person your business needs. Don't settle for less than the best. My company had a customer coordinator position to fill. We were screaming busy, but we practiced patience in finding the right person for the job. It took 12 weeks, and we interviewed dozens of people. But when we found the right person, it was like they were part of the team for years. They fit in and on-boarded so quickly. Patience paid off.
My Greatest Passions
Seeing people find the Way, creating abundance in all things, and my wife, Krista.
How I Stay Competitive
I keep a clear heart and a clear vision of where I want to go, and I am always willing to learn.
My Secret to Success
I budget in all areas of my life—time, money, emotional and spiritual—and know when I'm spent. I know my limits and will push them to the edge. You need to know your edge. When you are there, it's time to quit spending, drop a project, drop that person that is not working, take time to rest, or learn how to increase your limits. Respect your limits, and they will serve you instead of being your master.
Why I Love My Business
Being a tech entrepreneur is a double-edged sword. Anything is possible with technology. We just haven't done it all yet. I love wrestling with that idea, building a team around it, and creating a world of abundance through the smart application of tech knowledge. I love it!
To learn more about business, team building and leadership, download our EntreLeadership Podcasts, which include lessons from Dave, plus interviews with key business leaders from across the nation.