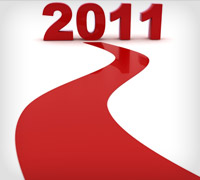 We've covered a lot of stuff this year on daveramsey.com—everything from relationships with pets and spouses to the economy and getting out of debt. Here is a sampling of some of our most popular content from the past year.
Pricey Pets—Are They Making Us Broke?
Let's face it. Even though pets are worth it, they're not cheap! Dave shares your love for pets and answers some popular questions regarding pet insurance and monetary limits.


You Know You're on a Budget When...
Being on a budget doesn't mean you can't have fun and even make fun of yourself a little bit! Check out some of the hilarious responses from Dave Ramsey fans, and see how many you can relate with.


Dear Occupy Wall Street ...
Dave Ramsey's got a message to share with you and all of the Occupy Wall Street protesters.


Keep Track, Not Score
Spouses don't "keep score," but they do "keep track." A budget is not about keeping score or showing your spouse how much better you are at handling money. Beating debt is a team sport.


How to Get Fit and Healthy on a Budget
If money is tight but you still want to lose weight this year, here are a few pointers to help you get started.


The 12% Reality
"Can I really get a 12% return on my mutual fund investments, even in today's market? If I can, what mutual funds should I choose?" Dave Ramsey answers these popular questions.


Peace in the Midst of the Storm
As residents of Joplin, Missouri, Eric and Amy and their two daughters lived through the string of tornadoes that ripped through the town in May. Their house was demolished, but that hasn't dampened their spirit of hope.


The Tipping Point
Has the economy changed the way you tip? We recently asked this question to Dave Ramsey's fans on Facebook and received nearly 600 widely varied and highly opinionated responses.


Martha's Fudge Peanut Butter Brownies
Martha Thompson shares the recipe to one of her most popular desserts for visitors of Financial Peace Plaza, as well as her friends and family.


Portraits of Normalcy - Part 1
If you're convinced the Land of Normalcy is a great place to live, take a moment to meet some of its residents.


Have You Overpaid the IRS and Didn't Know It?
If you're one of the estimated 2.2 million taxpayers who overpaid the IRS a total of $1 billion in past years, there is good news! You can reclaim your cash by filing an amended tax return.


The Biggest Loser Loses More Than Weight
Patrick House, winner of The Biggest Loser on NBC, has lost more than just weight. He's also paid off a lot of debt!
What were your favorite pieces on daveramsey.com in 2011? What would you like to see more of in 2012? Leave a comment to let us know!