Home Buying & Selling
2 Easy Ways to Sell Your Home More Quickly
Selling your home is a lot like dating. You've got some wooing to do.
If buyers don't like what they see, they won't bother stepping foot in your door. That's why it's important to make a good first impression. Here are two simple steps you can take to attract potential buyers from the get-go.
1. Shine Online
It's no secret that most home buyers turn to the internet to search for a home. After all, it takes much less time to browse listings from the comfort of your own home than to trek all over town looking at a bunch of homes that don't even make your short list.
That's why it's so important for your home to shine online.
Nearly 9 in 10 buyers say photos are a home's most important online feature.
So where should you focus your energy? According to the National Association of Realtors (NAR), buyers rank photos and property details as the two most important online features for a home.
Let's Talk About Photos First
Photos are the first thing a potential buyer sees when they start their online search. If your home looks dark and dingy, you can bet buyers won't be beating down your door.

Find expert agents to help you buy or sell a home.
So set your smartphone aside, and let a pro capture your home in its best light. A good real estate agent keeps a professional photographer on speed dial and includes photos as part of their service so there's no out-of-pocket cost for you.
A home listing with 22–27 photos has the best chance of selling within 60 days.
Whatever you do, don't skimp on pictures. A home that features fewer than nine photos is about 20% less likely to sell in 60 days than a listing with 22–27 photos, according to Zillow.
Mind the Details
CoreLogic analyzed the online listings of more than a million homes that closed this year across the nation and found that the features your agent includes in the public listing comments matter. Here's a quick look at how some key phrases affect a home's days on the market.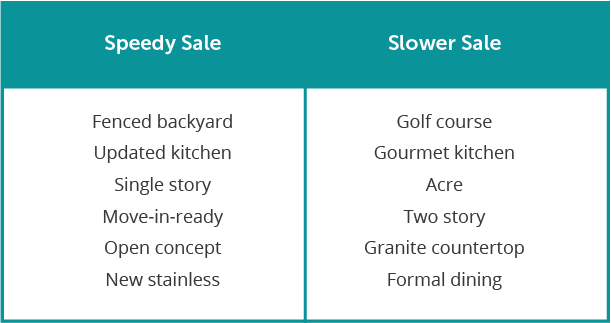 So what does that mean for you? Listing your home may be your agent's job. But it's smart to know what makes buyers click in your area. That way, you can talk to your agent about how to make the most of your home listing.
2. Price It Right
Feelings have a funny way of jacking your home's value up in your head. Maybe you're having a hard time letting go of the memories. Or you're so excited about your move you keep adding dollar signs to fund your next place. Whatever your emotions, it's best to keep them out of your pricing strategy.
The longer your home sits unsold, the bigger the price reduction.
Getting your home's price right just may be the most important step to a successful sale. Here's why: A recent Zillow study found that an overpriced home is half as likely to sell in 60 days than one priced at market value.
And according to their research, overpricing comes at a cost: The longer your home sits unsold, the bigger the price reduction. Why waste time (and extra mortgage payments) waiting to drop the price to what your home's really worth?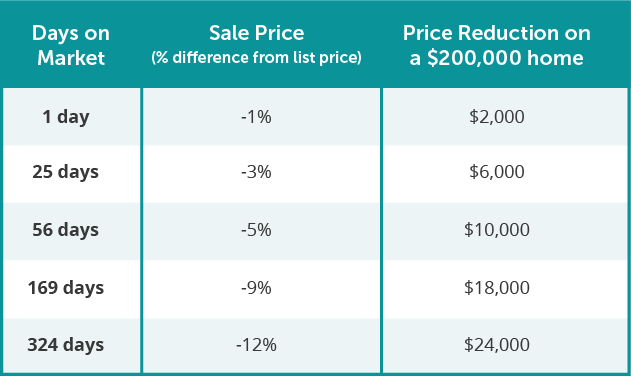 Buyers don't give a rip how you feel about your home or what your mortgage balance is. They just want a fair deal. An experienced agent can show you what homes like yours have sold for in your area so you can feel confident that buyers will pay the price you're asking.
Get Free Advice to Help You Cinch Your Sale
Ready to sell your home? We've got a free resource to start you in the right direction! Dave's Essential Guides to Selling Your Home Fast provide step-by-step guidance to help you:
Hire a trustworthy a real estate agent
Choose the ideal price for your home
Prep your home to attract buyers
Navigate the contract stage successfully
Take the stress out of your home sale, and download your free guides today!