If there's anything worse than paying taxes, it's paying more taxes than you have to. But every year, millions of taxpayers do exactly that because they don't realize they could save money by itemizing their deductions, or they don't know which tax credits they qualify for.
Just a few easy deductions or credits can have a big impact on your taxes, so let's take a closer look.
How Do Tax Deductions and Credits Work?
While tax deductions and credits both help you save on taxes, they each work a little differently.
Tax deductions reduce your taxable income. So if you're in the 25% tax bracket for example, a tax deduction for $100 will save you about $25 on your tax bill.
Tax credits cut your taxes dollar for dollar, so a $100 tax credit cuts your tax bill by $100.
A tax professional can help you determine which deductions and credits apply to you so you don't spend more than you have to at tax time.
You could be eligible for additional tax breaks if you:
Own a home
Pay state income taxes or state and local sales taxes
Make charitable donations
Pay for childcare or college expenses
Home Ownership Qualifies You For Three Easy Deductions
Since Matt and Beth are homeowners, the IRS gives them several opportunities to save on taxes. They can itemize three easy tax deductions to maximize their savings: the interest they paid on their mortgage, their mortgage insurance premiums (also known as private mortgage insurance), and state or local real estate taxes on their property.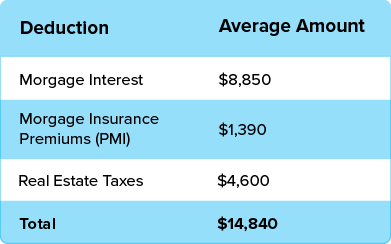 These deductions alone exceed the $12,600 standard deduction for married couples filing a joint return. That means Matt and Beth could save more than $500 on their tax bill by itemizing these three easy deductions.

Tax Pro Tip:
If you sold a home this year, don't forget to include the real estate taxes you paid when you closed on the sale of that property. "This may not show up anywhere else but on the HUD Settlement Statement you received at closing," Chad McKinney, a Certified Public Accountant, told us. "But if the taxpayer paid it, they should deduct it."
How Paying Taxes Can Actually Help You Save on Taxes
While they're in itemizing mode, Matt and Beth shouldn't overlook the state and local sales tax deduction that enables them to pay less in taxes. The IRS allows you to deduct the taxes you paid either in state income taxes or state and local sales taxes. Since Matt and Beth live in a state without a state income tax, the sales tax deduction is the way to go.
The IRS provides a handy calculator that shows you how much your sales tax deduction is based on where you live, your income and the number of exemptions you're claiming.
If Matt and Beth deduct $1,650 for the state and local sales tax, they could save an additional $400 on their taxes.

Tax Pro Tip:
You can deduct additional state and local sales taxes on certain large purchases, Chad pointed out. If you bought a vehicle or a boat, or renovated or added on to your home, you can add the sales tax you paid to your tax deduction.
Charitable Donations Reduce Your Tax Bill
The majority of taxpayers who itemize their returns claim the deduction for charitable giving, and it's easy to see why. If Matt and Beth gave $5,200 in cash donations this year, that deduction could help them save $1,300 on their taxes!
Non-cash donations like those hand-me-downs Matt and Beth donated to Goodwill and the used couch they sold at their church fundraiser are also deductible. If they deduct $1,200 for non-cash donations, that works out to $300 in additional savings for Matt and Beth.

Tax Pro Tip:
Claiming charitable donations requires a lot of documentation. Non-cash donations can be even trickier. "If the taxpayer gets a receipt from the organization receiving the donation, they often fail to document what they donated and what it was worth," Chad explained. "You've got to write that junk down!" A tax professional can tell you what's required and how to keep track of your giving so you don't have to worry about questions from the IRS later.
Related: Not sure if you need a tax pro's help this year? Take our free quiz to find out!
Save on Taxes by Getting Credit When It's Due
So far, itemizing five easy tax deductions has potentially saved Matt and Beth $2,500 on their tax bill. A couple of important tax credits could help Matt and Beth owe even less at tax time.
If Matt and Beth both work and have kids in daycare, for example, the Child and Dependent Care Credit allows them to deduct a percentage of their daycare costs—up to $3,000 for one child or $6,000 for two or more.
If Matt and Beth have college-age kids, they can claim the American Opportunity Credit for up to $2,500 for the first $4,000 of their college-related expenses, including tuition, textbooks and other course-required materials.
These are just a few of the commonly overlooked tax deductions and credits that could end up helping Matt and Beth save thousands on their taxes. Before they file, however, they should check with a tax professional to make sure they qualify for the deductions and credits and that they have all the documentation they need in case the IRS asks any questions. A tax expert can also help Matt and Beth identify other easy deductions and credits to save even more on their taxes.
Don't miss out on potential savings you've earned throughout the year. Find a tax pro in your area today!