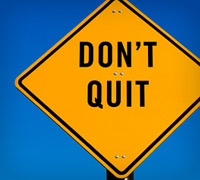 By Jon Acuff
You've funded your emergency fund. You've got a debt snowball that would frighten most villagers who saw it rolling down the hill. You've put out your major financial fires and are seeing some of the early dividends of hard work.
Be careful!
Though you've had a few wins and are enjoying some early success, this is one of the most dangerous points in a financial adventure. This is one of the first major plateaus. This is a pausing point for a lot of people. This is a short rest stop that turns into a long rest stop that turns into you not moving again on your road to beating debt.
The big, fun, sexy stuff is easy to get excited about. We paid off a credit card! We paid off a car! We've got enough money that even if we lost our jobs we could survive for six months! Things are good. This is fun.
That's what we think, and then we hit the investing portion of the Baby Steps. Then we hit the work that has a slower, longer burn. The fuse on this dynamite is not as short as the first few things we did.
But, stopping now would be crazy. Stopping after you've knocked out a few Baby Steps is silly.
That would be like putting out a fire on the roof of your house and being so satisfied that the roof is no longer burning that you don't fix the hole.
That would be like dropping out of college after finishing all but the last semester of your senior year.
That would be like having a cast put on your broken leg and then never going back to the doctor to have it removed.
That would be like… I can play this game all day, but you probably get what I'm saying.
I, unfortunately, speak from experience on this issue. After my wife and I paid off our major bills and got a little savings under us, we basically quit the first time. We read The Total Money Makeover, felt good about the little progress we made, and then essentially hit "pause." We took care of the present but ignored the work of the future. It was years before we jumped back in and started really completing everything Dave recommends.
Don't do what I did. Don't get stuck in the doldrums. Don't give up in the middle.
Push through, keep working, and don't quit. The long-term gain is worth some short-term pain. You'll see… the middle is no place to stop.
If you've ever wondered how many blue shirts Dave owns, why women make each other buy bridesmaid dresses, and how to baby-proof your house from 27-year-olds, you'll love Jon Acuff's brand-new gift book! Get it now!
Jon Acuff is the founder of stuffchristianslike.net and the author of the book Stuff Christians Like. His insight into everything from church, to advertising, to money, to life is as funny as it is true. In the last 12 years, he's written branding for companies such as The Home Depot, Chick-fil-A, Staples, Bose and many others. He's a contributor to CNN.com , speaks nationally on the subject of social media, and joined the Dave Ramsey team in 2010. He lives with his wife and two daughters in Nashville, Tennessee.