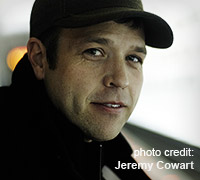 Compassion without action is really nothing more than emotion. Best-selling author Donald Miller is no longer willing to sit back and watch the world hurt without doing something about it. That's why he plans to spend the rest of his life meeting a felt need in the life of fatherless boys.
Don knows first-hand what it's like to grow up without a dad; his left when he was a young child. Watching his mother raise two kids alone has given Don a deep awareness of the struggles that single moms face every day.
"Parenting is already the hardest job in the world with two people, and as a single parent, you're doing twice the work," he said. "I want to encourage all the single moms that the conflict is worth it, and someday your kids are going to rise up and praise you for what you're doing."
Living His Story
Don has been encouraging churches to come alongside single moms and provide positive male influences in their sons' lives. Several years ago, he was involved in starting The Mentoring Project, an organization committed to teaching men in the church to mentor young, fatherless boys.
Don says that becoming a "mentor" sounds intimidating to some people at first, but it's really pretty simple. "Anybody who has the skills to be a friend can mentor a kid. It's all about time and being a good friend."
Many people aren't aware that 94% of the people in prison are male, and 84% of them grew up without dads. Don believes that if the church in America could mentor the approximately 15 million men growing up without fathers, we would curb teen suicide, teen dropout rates and teen drug use. We would curb unwanted pregnancy, reduce abortion by more than half of what it is right now, and shut down a significant number of American prisons.
His goal is to band together with churches to literally shut down 15% of American prisons by mentoring fatherless boys. Now that's living a powerful story!
Clearing Off the List
It's taken tons of work from a lot of people, but Don is seeing his vision become a reality, starting in Portland, Oregon. This year, he'll be involved in recruiting 1,000 men from the local church to step up and become mentors.
But Portland is just the first stop on the list. "We want to go to every major city, take the waiting list for a mentor, and clear it off," he said. "We believe that we're going to do it—that God is going to do it—that He's going to turn the hearts of men in the church to the fatherless. And it gives me chills to think about it."
What's Your Passion?
What ignites your passion to help our hurting world?
If you're already involved with something, what was it that inspired you to take that path in the first place? Do you feel as actively involved in your vision as you'd like to?
Don says that to live a better story, you have to tap deeper into the aspects of life that are truly meaningful.
Getting there may not be easy, but Don and anyone else in that position would tell you, the cost of living a good story is always worth it.
What kind of legacy are you leaving to your family… and the world? Is money hindering your ability to pursue your passions full force? If so, Dave's life-changing class, Financial Peace University, is just that—life-changing! Discover how improving your money-management skills can unleash you to better do what you were intended to do!