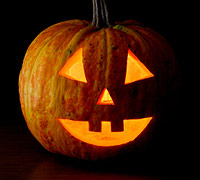 Halloween approaches.
Look outside and you'll likely see pumpkins lined on doorsteps, ghosts and goblins hanging from trees, and orange lights draped across door frames.
Across the country, people are planning elaborate costumes for themselves and their kids. Retailers have stocked aisles full of chocolate and other sugary snacks.
We love Halloween.
Problem is—maybe we love it a little too much. Americans spent somewhere in the neighborhood of $6.8 billion—that's "billion" with a "b"—on Halloween last year, making it one of the most profitable holidays for retailers.
If we actually gave gifts at Halloween—instead of decorating our houses and ourselves—the holiday would probably be second only to Christmas in retail sales. That's some serious spending, folks!
So, with Christmas right around the corner, you need to determine (now!) if it makes sense for you to spend your cash on Halloween. That's what opportunity cost is all about. The money you spend on Halloween can't be used for Christmas.
The blow-up ghost hanging from the tree and the Cher costume may seem like great ideas now, but that costume will be stuffed in the back of the closet come December.
Meanwhile, you'll have school clothes and Christmas gifts to buy. What will the kids need? Probably not a black wig, high heels and a pair of fishnet hose.
According to the National Retail Federation, the average family spent $72 on Halloween last year, up from $66 in 2010. They spent an average of $26 on costumes, $21 on candy and $19 on decorations. That's small beans compared to average Christmas spending, but it can still put a dent in your plans two months from now.
So make a plan and stick to it. Here are a few ways to reign in Halloween spending and stay on a budget heading into the holiday season.
Make your own costume, or reuse the one from last year. Do you really need to spend 20 bucks on a new getup? Really? Avoid the temptation, get creative, and put together a costume using the clothing already in your closet.
Lay off the decorations. Unless you're reusing decorations from last year, there's no need to go all out for Halloween. Leave that to the Addams Family down the street.
Go easy on the candy. If you live in a neighborhood where there are lots of kids, you may want to consider having candy on hand—if it's in the budget. But you don't have to buy tons of name-brand sweets. Buy generic if possible.
You can still have fun with Halloween without ruining your budget. If you're working the debt snowball, you have more important things to spend your money on, right?

Don't make Halloween any scarier than it already is.

Get your plan on paper with Dave's free budgeting forms and other budgeting tools.