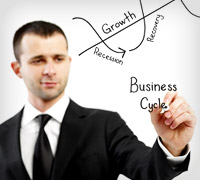 Is the economy keeping you from investing? We recently asked Dave's Facebook fans how they feel about investing in the current economy, and we found that, for some people, doubts about an economic recovery are keeping them out of the investing game.
Fear Factor
Kevin Pasarilla spoke for a lot of people when he said he didn't know if now is the right time to begin investing. "I'm scared to start my first Roth, because I have absolutely zero confidence that our government will do anything right in helping the economy grow."
Kevin got a lot of encouragement to start investing 15% of his income for retirement from folks like Nathaniel A. Miller. He started investing in his 401(k) and Roth IRA during the stock market slide in 2008. That means he was on board as the market rebounded by 50% over the next 18 months.
Nathaniel's perspective? "As far as I'm concerned, all the bad economy meant to me was that I started buying at the best possible time."
As you would expect, a lot of fans talked about how they had taken losses on their investments. Some people backed off from investing because of it, but other folks, like Sandra Webb, know today's losses are tomorrow's gains. "Lower prices mean more shares, so later on I expect to make up for losses in my 401(k)," she said.
Bob Reed summed up the optimists' attitude when he posted, "Investing 15% happens no matter what! Better to live on rice and beans now than cat food later."
The Wisdom of the Baby Steps
Many people found that because they followed the Baby Steps and did not start investing until they were debt-free with a fully funded emergency fund, they could keep investing in spite of hard economic times.
"Still investing 15% non-stop," Ed Christoffersen said. "I find being debt-free pierces the veil of fear. I want to retire with dignity."
"When you are debt-free and prioritize correctly, 15% is not a problem," Jennifer Franz Hendrickson said. "My husband is currently laid off, and we are still putting 15% away. We have made cuts in other areas to make this happen."
Time In the Market, Not Timing the Market
Noah Jacolev reminded those who said they were afraid to keep a long-term outlook. "In the short term, you can lose big if you panic," he said. "People learned that last year when they missed the 50% run up in the stocks after the crash."
Nicole Paterniti Harper agreed, saying, "The market doesn't scare us much since we are investing for the long haul. We know the market will ebb and flow over the next four decades, but with an emergency fund, no debt, and a paid-for house (by then), we will be fine."
Clear Up Questions With Professional Advice
If concerns about the economy are keep you from progressing through the Baby Steps, talk with one of Dave's Endorsed Local Providers (ELPs). That's just what Kyle O'Glee is planning to do. "Just hit Step 4 myself ... I need to get in touch with my ELP to do some learning."
Your investing ELP will give you advice you can trust—even in today's economy. Get in touch with your ELP today!