By Martha Thompson, Director of Guest Relations
Whether you are planning to host Easter dinner, Mother's Day Brunch, a bridal or baby shower or a graduation celebration, entertaining should never break your budget or cause you stress!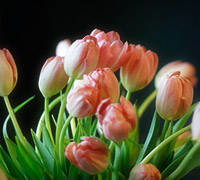 Make it easy for friends and family to contribute to the special day. As the hostess, plan to serve the main course. Based on what you choose, assign appetizers, salads and other side dishes so no one has to do all the cooking.
Serving your meal on a buffet table makes your job a breeze and makes it easy for your guests to go back for seconds. Set up your buffet table the day before, including any tablecloths, decorations, plates, silverware and serving dishes and utensils. Position your guests' plates in a stack at the beginning of the buffet, followed by food. Place any condiments next to the food that they go with. Always put your silverware and napkins at the end of the buffet, so guests will have a free hand to fill their plates.
Add a little flair! I like to wrap each set of silverware in a napkin and tie it up with a colorful ribbon or cord. Place them in a basket or stand them up in decorative containers for an attractive presentation. Follow your food buffet with a separate drink station and dessert station.
Now that you know how to easily put together a fun buffet spread, it's time to decorate! But don't worry—decorations don't have to be expensive or a lot of work.
Mix and match on the cheap. Buy a few pretty serving dishes at discount stores, yard sales or second-hand stores to keep on hand for your buffet table. As long as the colors coordinate, mixing and matching never goes out of style! Don't be afraid to use a variety of coordinating plates, glasses and napkins. Your guests will enjoy the different styles.
Keep the centerpiece simple. Fresh cut flowers like daffodils or tulips right out of your yard are a great touch for spring tables. If you have a lot of people coming, add flowers as an option for one of your guests to bring. There's always someone who enjoys that assignment!
Invest in decorative glass containers found at your local craft shop or discount stores. They may be in the candle section or in the flower vase section of the store. At Easter, I place a pastel pillar candle in the container and then pour pastel jelly beans (approximately 3 bags) around the base of the candle. I reuse the containers throughout the year. For Valentine's Day, I fill them with heart candy; Halloween, with candy corn; and Christmas, with peppermints or even whole fresh cranberries. You get the idea. Use your imagination and buy your candy at the dollar store!
Get more recipes and behind-the-scenes news straight from Martha by following her on Twitter @marthas_place.