When we asked Dave's Facebook fans how they keep vacations from following them home, we got a great response! There was so much great advice, in fact, that we picked three fans and asked them to offer some real-life vacation planning guidance.
Amanda—First All-Cash Vacation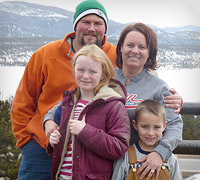 Amanda's family is all smiles on a debt-free ski trip to Colorado!
Careful research allowed Amanda to plan her family's Breckenridge ski vacation budget down to the penny.
"We were able to plan out every day and what we wanted to do each day," she said. "Although we hate to be on a schedule, you can save so much by pre-purchasing lift and tubing tickets, it is worth it to have a schedule."
She researched restaurants online to plan the food budget and find coupons for attractions and activities. She also saved on food by bringing snacks and drinks from home instead of splurging on convenience foods.
"In the past we would spend, spend, spend," Amanda said. "But this time, we had cash and knew we would only spend what we budgeted for."
It worked so well that Amanda and her family will use the same method for a camping trip this summer.

Ready to start saving? Get started with a free trial of Ramsey+ today.
"Now that we're on Dave's plan, we will not spend what we do not have to spend," she promised.
Lisa—No-Stress Vacation Pro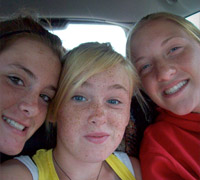 Lisa's daughters and a family friend having fun on their annual road trip to Florida.
Lisa never researches her family vacations because they always go to the same place—Satellite Beach in Florida. Lodging at a condo is free, thanks to family, so they usually budget about $2,000 for the trip using an adapted envelope system.
"I figured if it worked for groceries and entertainment, it would work for vacation, too," Lisa said.
Lisa divides the budget equally between each day of vacation, including drive time. If there's money left over one day, she divides it between the remaining days.
"We have always had money left and never run short because we stuck to it," she explained.
Lisa's family hasn't just been hanging out at the condo, either. They've been to NASA, gone Jet Skiing, taken alligator tours, and scouted for manatees. They've even been able to watch NASA shuttle launches from the beach.
"We always have a blast!" she said.
Sara—Debt-Free Vacation Planning Rock Star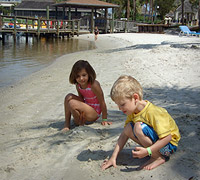 Sara's kids enjoying the sun and sand at Florida's Club Med.
As a single mom with two kids, Sara admits saving for vacation is a challenge, but she won't do it any other way.
Last year, after some research, Sara took the family on an all-inclusive, Club Med vacation in Florida. The package gave her better airfare, and she negotiated a discount thanks to Dave's teaching. There were plenty of activities for the kids and great food.
"The only time I opened my wallet was to let the kids buy a souvenir at the gift shop," she said. "The best part of that vacation was knowing there would be no credit card bill lurking around the corner!"
This year, Sara plans to take some short trips to visit family, but in 2011—at the request of her son—they are planning a "cowboy vacation" out west.
"I can't wait to see my kids riding horseback," she said.
For families who struggle with the self-control to save for vacation, Sara offers this advice:
"Saving for something far off in the future takes discipline and lots of it," she said. "When I feel the need to buy something I don't need or spend more than I should, I reach for the photos from our beach vacation last year.
"The smiles on my kids' faces are priceless, and I have a deep sense of satisfaction and pride knowing I did it without going into debt."
Do you have vacation-planning advice you'd like to pass along? Leave a comment below!
Get started saving for vacation now with the envelope system.